Mechanical Recorder
The following article is from The Great Soviet Encyclopedia (1979). It might be outdated or ideologically biased.
Recorder, Mechanical
a device for converting electrical signals into the mechanical vibrations of a stylus that cuts a groove in a recording medium during mechanical sound recording, particularly for the purpose of manufacturing phonograph records. Dynamic recorders are the most common type.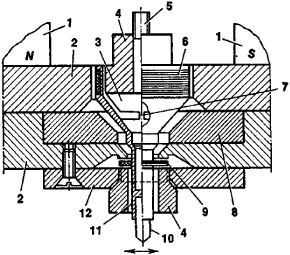 The structure of a dynamic recorder for monophonic sound recording is shown in Figure 1. A dynamic recorder for stereophonic sound recording is basically a duplex monophonic recorder in which both parts of the moving system are balanced by means of a transverse beam (Figure 2). The principal technical parameters of a mechanical recorder are an operating fre-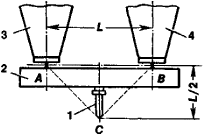 quency range of 50 to 30,000 hertz, a nominal power up to several tens of watts, a nonlinear distortion rating (at nominal power) of < 1 percent, and a minimum crosstalk attenuation between channels (for stereophonic recording) of 35 decibels.
REFERENCE
Apollonova, L. P., and N. D. Shumova. Mekhanicheskaia zvukozapis'. Moscow-Leningrad, 1964.
The Great Soviet Encyclopedia, 3rd Edition (1970-1979). © 2010 The Gale Group, Inc. All rights reserved.