Medullary Ray
Also found in:
Dictionary
,
Thesaurus
,
Medical
,
Wikipedia
.
medullary ray
[

me′dəl·ə·rē 'rā

]

(botany)

An extension of pith between vascular bundles in the plant stem. Also known as pith ray.
Medullary Ray
a single or polystichous layer of parenchymal cells that intersect the lignin and bast of stems and roots of dicotyledonous plants. Medullary rays serve a storage function and transport matter in a horizontal direction.
medullary ray, pith ray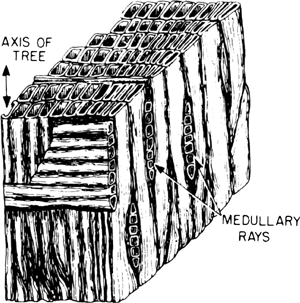 In a cross section of a tree or log, one of the ribbons of tissue extending radially from the pith; may vary from microscopic to 4 in. (10 cm) or more in oak; used to store and transport food horizontally within the tree.