Meta-, Ortho-, Para-
The following article is from The Great Soviet Encyclopedia (1979). It might be outdated or ideologically biased.
Meta-, Ortho-, Para-
(abbreviated m-, o-, p-), prefixes used in organic chemistry to designate the position of two identical or different substituents relative to each other in a benzene ring. For example, substituents in meta- compounds are located in the 1,3 positions, those in ortho- compounds occupy the 1,2 positions, and those in para- compounds are in the 1,4 positions: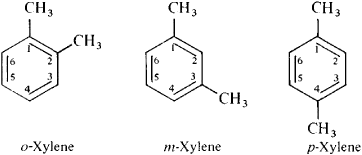 In inorganic chemistry, the prefixes meta- and ortho- are used to designate types of acids that differ in the number of hydroxyl groups (ortho- means the greatest number, and meta-, the smallest)—for example, orthophosphoric acid, H3PO4 and meta-phosphoric acid, HPO3.
The Great Soviet Encyclopedia, 3rd Edition (1970-1979). © 2010 The Gale Group, Inc. All rights reserved.