meta-data
Also found in:
Dictionary
,
Thesaurus
,
Medical
,
Wikipedia
.
meta-data
(data)

/me't*-day`t*/, or combinations of /may'-/ or (Commonwealth) /mee'-/; /-dah`t*/ (Or "meta data") Data about

data

. In

data processing

, meta-data is definitional data that provides information about or documentation of other data managed within an application or environment.

For example, meta-data would document data about data elements or attributes, (name, size, data type, etc) and data about

records

or data structures (length, fields, columns, etc) and data about data (where it is located, how it is associated, ownership, etc.). Meta-data may include descriptive information about the context, quality and condition, or characteristics of the data.

Not to be confused with

Metadata

.

This article is provided by FOLDOC - Free Online Dictionary of Computing (foldoc.org)
metadata
(1) (The Metadata Company, LLC, Long Beach, CA, www.metadata.com). Formerly Metadata Information Partners, Metadata is a software firm offering a variety of data management products and services. In 1986, the U.S. Patent and Trademark Office granted the company incontestable status for the Metadata trademark. Whenever the term is used generically in this encyclopedia (definition #2 below), it is spelled with a dash (meta-data).

(2) (meta-data) Data that describes other data. For example, data dictionaries and repositories provide information about the data elements in a database (see data dictionary). Digital cameras store meta-data in the image files that include the date the photo was taken along with camera settings (see EXIF). Digital music files contain meta-data such as song title and artist name (see ID3 tag). Meta-data are stored in an HTML page (Web page) to help search engines define the page properly, and most especially, make it rank higher in the results list (see meta tag).

Meta-data has existed for centuries. Card catalogs and handwritten indexes are examples long before the electronic age. See Meta Data Coalition.

A Glaring Lack of Meta-Data - The Music CD
Music CDs should have been initially designed with meta-data, such as album name, artist and song titles. In the early 1980s, readouts to display such data on a CD player were expensive, and although a few thousand bytes could have easily been reserved for future use, there was no such accommodation. Later on, CDs were played on the computer, and the solution was a circuitous route of searching for titles by track length on the Internet (see CDDB). When meta-data was finally added, there were conflicts in older stand-alone CD players that attempted to play them.

Meta-Data in the Snowden Debacle
After former CIA employee Edward Snowden leaked top-secret American surveillance programs to the press in May 2013, meta-data came front and center. It was revealed that the U.S. National Security Agency (NSA) had undertaken massive phone surveillance, and the controversy was about what was recorded: the actual voice conversations or only the meta-data (times and telephone numbers of the calls). Even when voice content is not recorded, the meta-data can be analyzed to determine who might be in contact with suspected terrorists.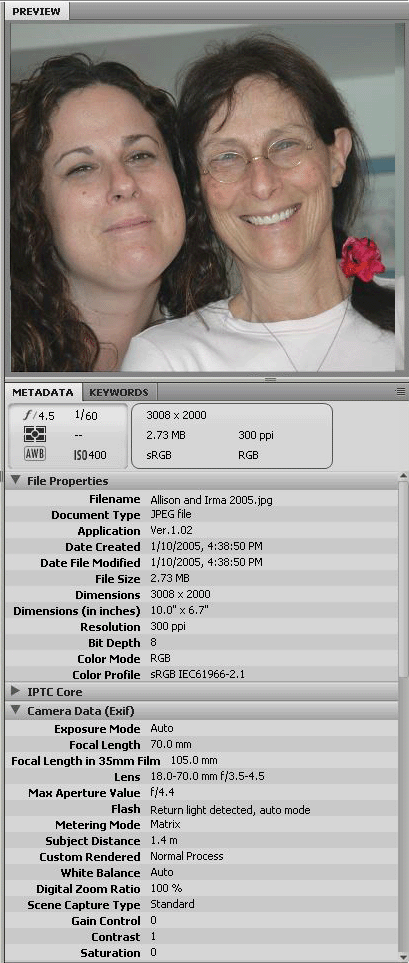 Meta-Data in an Image File
A huge amount of meta-data can be stored in an image file. The IPTC Core section (expanded below) is a meta-data standard from the International Press Telecommunications Council for adding creation data.

A Ton More
An image file can be edited to include a huge amount of meta-data to describe the file. DICOM stands for Digital Imaging and Communications in Medicine.
Copyright © 1981-2019 by The Computer Language Company Inc. All Rights reserved. THIS DEFINITION IS FOR PERSONAL USE ONLY. All other reproduction is strictly prohibited without permission from the publisher.