Milling Cutter
Also found in:
Dictionary
,
Wikipedia
.
milling cutter
[

′mil·iŋ 'kəd·ər

]

(design engineering)

A rotary tool-steel cutting tool with peripheral teeth, used in a milling machine to remove material from the workpiece through the relative motion of workpiece and cutter.

McGraw-Hill Dictionary of Scientific & Technical Terms, 6E, Copyright © 2003 by The McGraw-Hill Companies, Inc.
The following article is from The Great Soviet Encyclopedia (1979). It might be outdated or ideologically biased.
Milling Cutter
a multitooth or multiblade cutting tool in the form of a body of revolution, used to cut metals and other materials by milling.
Depending on their purpose, milling cutters are classified as cylindrical (plain), face, circular grooving (one-, two-, and three-sided), slitting, end, key-seat, T-slot, angle, and profile (including disk-type gear milling and end-milling type) cutters and hobs (see Figure 1). Cutters may also be classified according to the tooth cross section (sharp-pointed and relieved), the tooth shape (straight, helical, staggered), the direction of the helical grooves (right-handed, left-handed), the cutter design (solid, composite, cutters with inserted teeth or blades, and gang cutters), the mounting method (arbor-type and with a conical or cylindrical shank), and the material from which the cutting element is made (high-speed steel, hard alloy, and composition material).
Figures 2 and 3 give the geometric parameters of the cutting elements of the most widely used types of milling cutters—cylindrical plain and face cutters. The following ranges for optimum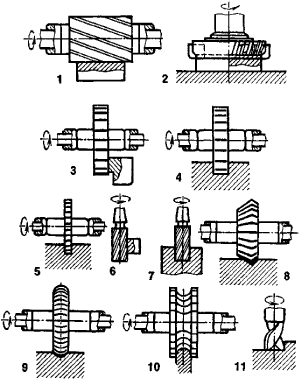 geometric parameters of the cutting elements have been experimentally established: –10°–30° for the rake angle γ, 10°–30° for the primary clearance angle α, 4°–10° for the secondary clearance angle α1 30°–90° for the side cutting edge angle ϕ, 1°—10° for

the end cutting edge angle ϕ1; 1–2 mm for the length of the transitional cutting edge l, –5°–15° for the rake angle of the primary cutting edge λ, and 10°–45° for the helix angle ω.
Milling productivity, cutter durability, the quality of the milled surfaces, and the cutting force are also influenced by other geometric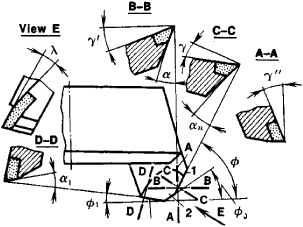 parameters of the milling cutter: the relief angle in a normal cross section αn, the side rake angle γ', the back rake angle γ", and the transitional cutting edge angle ϕ0.
REFERENCES
Gladilin, A. N., and N. P. Malevskii. Spravochnik molodogo instrumental 'shchika po rezhushchemu instrumenta, 3rd ed. Moscow, 1973.
Vul'f, A. M. Rezanie metallov, 2nd ed. Leningrad, 1973.
Rezanie konstruktsionnykh materialov, rezhushchie instrumenty i stanki, 2nd ed. Moscow. 1974.
Obrabotka metallov rezaniem: Spravochnik tekhnologa, 3rd ed. Moscow, 1974.
The Great Soviet Encyclopedia, 3rd Edition (1970-1979). © 2010 The Gale Group, Inc. All rights reserved.