Mills, Robert
Mills, Robert,
1781–1855, American architect of the classic revivalclassic revival,
widely diffused phase of taste (known as neoclassic) which influenced architecture and the arts in Europe and the United States during the last years of the 18th and the first half of the 19th cent.
.....

Click the link for more information.

period, b. Charleston, S.C. From 1800 to 1820 he worked as an architect in Washington, Philadelphia, and Baltimore, being associated at different times with Thomas Jefferson, James Hoban, and B. H. Latrobe. He then returned to Charleston as state engineer and architect. In 1836, President Jackson appointed Mills architect of public buildings in Washington. In this post he was responsible for designing and supervising the construction of the Treasury Building in 1836 and the Patent Office and the Post Office (now the International Trade Commission), both begun in 1839. His design (1833) for the Washington Monument was executed (1848–84) without the base originally intended for it. Mills had planned to have the great obelisk superimposed upon a large Greek Doric Pantheon. He also designed the Washington Monument in Baltimore, the Bunker Hill Monument, and the Monumental Church in Richmond, Va. Seeking to create a truly American architecture, Mills devised plans for public buildings that were highly practical. His buildings give the effect of great dignity and massiveness, corresponding to their solidity of construction.
Bibliography
See biography by H. M. P. Gallagher (1935).
Mills, Robert
(1781–1855)

Designed the Washington Monument, the tallest obelisk that epitomized the romantic Classical ideals.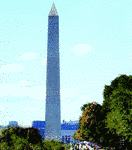 Mills, Robert
(1781–1855) architect; born in Charleston, S.C. America's first native-born professional architect, he trained with Hoban and Latrobe and was a chief exponent of the Greek Revival style. He was South Carolina state engineer and architect (1820–30) and architect of public buildings in Washington, D.C. (1836–42). His humane and enlightened designs for hospitals were used nationwide for 40 years. Mills designed the Washington Monument, Washington, D.C. (1848–84).