Mission architecture
Mission architecture
The church and monastery architecture of the Spanish religious orders in Mexico and California in the 18th century.
Illustrated Dictionary of Architecture Copyright © 2012, 2002, 1998 by The McGraw-Hill Companies, Inc. All rights reserved
Mission architecture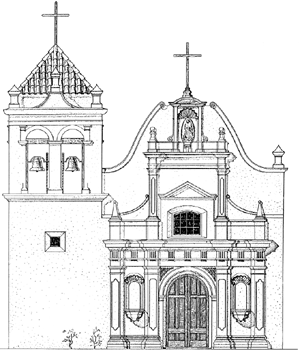 Church and monastic architecture of Spanish religious orders, especially in the Americas in the 18th century, displaying considerable regional variation as a result of influences of skills of local laborers and the availability of construction materials; relatively unadorned in some regions but considerably more elaborate in others, often with ornamentation imitative of the elaborate and lavish
Baroque
or the
Churrigueresque style.
Mission architecture usually exhibits many of the following characteristics: thick, massive walls of adobe brick, laid with lime mortar where available, commonly with wall buttresses to provide additional stability; adobe wall surfaces usually coated with lime-and-sand stucco to reduce the effects of erosion; tamped earth floors, commonly decorated with square tile, arcaded walkways with arches usually built around the patios; commonly, multicurved gables, a belfry, bell tower, or twin bell towers; a flat roof or a low-pitched roof with shaped parapets, usually supported by round logs; thatched or tile roofs; grilles covering windows facing the street; a massive wood door at the main entrance, sometimes heavily carved or paneled, often set in an elaborately sculptured portal. Compare with
Mission Revival
; also see
Spanish Colonial architecture.
McGraw-Hill Dictionary of Architecture and Construction. Copyright © 2003 by McGraw-Hill Companies, Inc.