Mold
Also found in:
Dictionary
,
Thesaurus
,
Medical
,
Acronyms
,
Idioms
,
Wikipedia
.
mold,
name for certain multicellular organisms of the various classes of the kingdom FungiFungi
, kingdom of heterotrophic single-celled, multinucleated, or multicellular organisms, including yeasts, molds, and mushrooms. The organisms live as parasites, symbionts, or saprobes (see saprophyte).
.....

Click the link for more information.

, characteristically having bodies composed of a cottony mycelium. The colors of molds are caused by the spores, which are borne on the mycelium. Most molds are saprobes and can obtain moisture and nutriment from fruits, vegetables, jelly, cheese, butter, bread, silage, and almost any dead organic matter. Among the commonest forms is the black bread mold (Rhizopus nigricans), which grows on decaying vegetables and fruits as well as on bread. Some molds, e.g., species of Penicillium, are useful in the preparation of Camembert, Roquefort, and other cheeses. Penicillinpenicillin,
any of a group of chemically similar substances obtained from molds of the genus Penicillium that were the first antibiotic agents to be used successfully in the treatment of bacterial infections in humans.
.....

Click the link for more information.

and other antibiotic substances are also obtained from molds. A few molds are pathogenic, e.g., those which cause ringworm and other skin diseases and several which cause diseases of plantsdiseases of plants.
Most plant diseases are caused by fungi, bacteria, and viruses. Although the term disease is usually used only for the destruction of live plants, the action of dry rot and the rotting of harvested crops in storage or transport is similar to the rots
.....

Click the link for more information.

. Some molds produce toxic chemicals called mycotoxins that can cause serious diseases (see ergotergot
, disease of rye and other cereals caused by the fungus Claviceps purpurea. The cottony, matlike body, or mycelium, of the fungus develops in the ovaries of the host plant; it eventually turns into a hard pink or purple body, the sclerotium, or ergot, that resembles
.....

Click the link for more information.

). Some organisms traditionally thought to be mold (e.g., slime moldsslime mold
or slime fungus,
a heterotrophic organism once regarded as a fungus but later classified with the Protista. In a recent system of classification based on analysis of nucleic acid (genetic material) sequences, slime molds have been classified in a major group
.....

Click the link for more information.

) have now been placed in the kingdom ProtistaProtista
or Protoctista
, in the five-kingdom system of classification, a kingdom comprising a variety of unicellular and some simple multinuclear and multicellular eukaryotic organisms.
.....

Click the link for more information.

.
Bibliography
See M. K. Matossian, Poisons of the Past: Molds, Epidemics, and History (1989).
The Columbia Electronic Encyclopedia™ Copyright © 2013, Columbia University Press. Licensed from Columbia University Press. All rights reserved.
www.cc.columbia.edu/cu/cup/
Mold
A mold is a fungus that typically grows in a filamentous cobweb-like mass under damp conditions and is capable of producing a staggering numbers of reproductive spores in as little as a few days. Molds are non-chlorophyll-containing entities, which require organic matter, living or dead, for survival. Mold is a critical participant in the "recycling" of dead organic material on the planet. Mold's relationship with humans range from the positive (e.g., food, antibiotics) to the negative (e.g., pathogens, antigens, toxins).
Illustrated Dictionary of Architecture Copyright © 2012, 2002, 1998 by The McGraw-Hill Companies, Inc. All rights reserved
The following article is from The Great Soviet Encyclopedia (1979). It might be outdated or ideologically biased.
Mold
a metal form for casting metal as ingots.
On the basis of design, casting molds are subdivided into closed-bottom and open-bottom, and by the method of casting, into those filled from above and those filled from below (bottom pouring). Horizontal-type molds are used to pour cast iron in casting machines, and molds in the form of low baths, sometimes with vertical dividers, are used to pour iron alloys and certain nonferrous metals. Vertical-type cast-iron molds are the most common in industry for pouring steel. The molds used for ingots designated for forging can hold 100 tons of steel and more; the molds for steel intended for rolling are figured for ingots weighing between 100 kg and 20 tons (ingots for slabs). Casting molds with hot tops are made to decrease the shrinkage cavity in the ingots.
---
Mold
(in Russian, mul'da), a casting pan for molding pigs in a casting machine.
---
Mold
a furry or velvety growth that coats plants, animals, and nonliving organic objects. Molds are formed by certain as-comycetous, phycomycetous, and imperfect fungi. The filaments of the mycelium thread through the substrate and, by secreting certain enzymes, destroy it. Molds result in great losses to the national economy, causing spoilage of such food products as flour, bread, canned goods, fruit juices, meat, dairy goods, beer, and kvass. They often destroy stored fruits and vegetables. Molds also lower the quality of fodders and cause various diseases of plants, thus lowering yield.
The most common phycomycetous molds are formed by species of the genera Mucor and Rhizopus. They are furry, grayish white deposits with tiny black globules, or sporangia, filled with numerous spores. Similar deposits often develop on bread, preserves, seeds, and fruit. Among Ascomycetes, the species Calonectria graminicola (imperfect stage—Fusarium nivale) form mold on winter plantings of rye and wheat and on such perennial grasses as orchard grass, bent, meadowgrass, and foxtail. Among the Fungi Imperfecti that form mold are various species of Penicillium and Aspergillus, which usually develop as blue-gray or green deposits on food products and many fruits. Molds can cause many plant diseases. Some secrete toxins poisonous to man and animals, and others parasitize external coverings and internal organs of man and animals.
Many molds are used in industry owing to their high fermentative activity. For example, Aspergillus niger is used to obtain citric acid, and in Japan A. oryzae is used to obtain sake. Penicillium roquefortii and P. camembertii are used to make Roquefort and Camembert cheeses. Penicillium and other fungi are used in the pharmaceutical industry as sources of penicillins and other antibiotics.
---
Mold
a fungus that produces characteristic deposits, also known as molds, on food products, fruit, plant remains, wallpaper, leather, and other objects. Molds belong to various taxo-nomic groups: Phycomycetes, Ascomycetes, and Fungi Imperfecti.
The Great Soviet Encyclopedia, 3rd Edition (1970-1979). © 2010 The Gale Group, Inc. All rights reserved.
mold
[

mōld

]

(engineering)

A pattern or template used as a guide in construction.

A cavity which imparts its form to a fluid or malleable substance.

(engineering acoustics)

The metal part derived from the master by electroforming in reproducing disk recordings; has grooves similar to those of the recording.

(geology)

Soft, crumbling friable earth.

(graphic arts)

To form a plastic substance by placing it in a matrix or form.

The form or matrix for shaping a plastic substance.

(mycology)

Any of various woolly fungus growths.

(paleontology)

An impression made in rock or earth material by an inner or outer surface of a fossil shell or other organic structure; a complete mold would be the hollow space.

McGraw-Hill Dictionary of Scientific & Technical Terms, 6E, Copyright © 2003 by The McGraw-Hill Companies, Inc.
mold, mould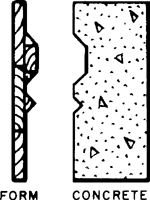 1. A concave and/or convex form from which castings or pressings are replicated.
McGraw-Hill Dictionary of Architecture and Construction. Copyright © 2003 by McGraw-Hill Companies, Inc.
mould
1 (US), mold

1. a shaped cavity used to give a definite form to fluid or plastic material

2. something shaped in or made on a mould
---
mould
2 (US), mold

1. a coating or discoloration caused by various saprotrophic fungi that develop in a damp atmosphere on the surface of stored food, fabrics, wallpaper, etc.

2. any of the fungi that causes this growth
---
mould
(US), mold

loose soil, esp when rich in organic matter

Collins Discovery Encyclopedia, 1st edition © HarperCollins Publishers 2005