Modulor
Also found in:
Wikipedia
.
Modulor
A system of proportion developed by Le Corbusier in 1942. It was based on the theories of early civilizations and on the human form, and was related to the golden section.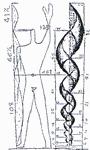 Modulor
a system of proportions proposed in the 1940's by the French architect Le Corbusier and his colleagues. The modulor is based on the dimensions and proportions of the human body (the initial quantities are the average height of a man, his height to the solar plexus, and his height with raised arms, which are assumed to be 183, 113, and 226 cm, respectively), the golden section, and Fibonacci sequences. The purpose of the modulor was to introduce a module based on human dimensions into modern architecture and artistic design. The modulor was used consistently in a number of Le Corbusier's projects and has had considerable influence on world architecture, especially design.
REFERENCES
Le Corbusier, C. E. Arkhitektura 20 veka. [Moscow] 1970. (Translated from French.)
Le Corbusier, C. Le Modulor. Boulogne-Billancourt [1951].