Desiccant
(redirected from Moisture absorber)
Also found in:
Dictionary
,
Thesaurus
,
Medical
.
desiccant
[

′des·i·kənt

]

(chemistry)
Desiccant
(or drying agent), a liquid or solid that takes up moisture, used for drying gases, liquids and, more rarely, solids. Desiccants are divided into three major groups: (1) water-adsorbing desiccants, (2) desiccants that form hydrates with water, and (3) desiccants that form other chemical compounds with water. The first group includes aluminum oxide, silica gel, and other adsorbents; the second group comprises certain anhydrous salts and fused hydroxides; and the third group includes metallic sodium and calcium, calcium oxide, and phosphorus pentoxide. The state of aggregation of the substance to be dried, the moisture content of the substance, and the drying conditions determine the selection of a particular desiccant. It is absolutely essential that the desiccant does not react with the substance to be dried.
desiccant
Any absorbent or adsorbent, liquid or solid, that will remove water or water vapor from a material. In a refrigeration circuit, the desiccant should be insoluble in the refrigerant.
silica gel
An absorbent form of silicon dioxide often wrapped in small packets that is shipped with equipment to absorb moisture. Silica gel packets are desiccants.

Don't Throw Them Away
Silica gel packets can be used to remove odors in a gym bag. Stored in a box of photos, they can prevent them from sticking to each other, and they can extend the life of razors by eliminating moisture. A wet phone can be dried out if placed in a jar filled with the gel bags. See silicon dioxide.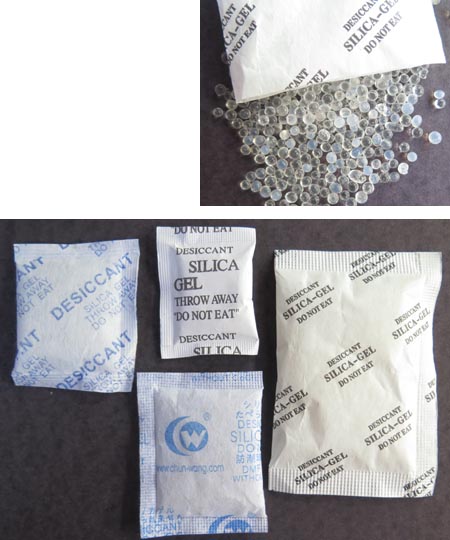 Silica Gel Packets
These commonly found desiccants are small beads of silica gel inside paper packets.