Monosaccharides
Also found in:
Dictionary
,
Thesaurus
,
Medical
,
Wikipedia
.
The following article is from The Great Soviet Encyclopedia (1979). It might be outdated or ideologically biased.
Monosaccharides
organic compounds; one of the major groups of carbohydrates. They contain hydroxyl and aldehyde groups (aldoses) or keto groups (ketoses). Monosaccharides are divided into trioses, tetroses, pentoses, hexoses, and so on (containing three, four, five, six, or more carbon atoms in the chain). Natural monosaccharides with a carbon chain containing more than nine carbon atoms have not been found.
For monosaccharides containing n asymmetric carbon atoms, 2n stereoisomers may exist. Monosaccharides enter into chemical reactions typical of carbonyl and hydroxyl groups.
A characteristic feature of monosaccharides is their ability to exist in open (acyclic) or cyclic forms and to produce derivatives of each form. Monosaccharides containing a five-member ring are called furanoses, and those containing a six-member ring are called pyranoses.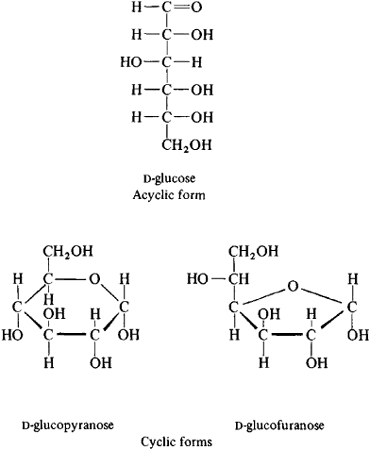 Monosaccharides are components of complex carbohydrates (glycosides, oligosaccharides, and polysaccharides) and mixed carbohydrate-containing biopolymers (glycoproteins and glycolipids). In such compounds, monosaccharides are bound to one another and to the noncarbohydrate portion of the molecule by glycoside bonds. Upon acid or enzyme hydrolysis, the bonds may cleave, with the release of the monosaccharides.
Free monosaccharides, with the exception of D-glucose and D-fructose, are rarely encountered in nature. The biosynthesis of monosaccharides from carbon dioxide and water takes place in plants during photosynthesis. As a rule, biosynthesis of complex carbohydrates takes place with the participation of activated monosaccharide derivatives, nucleoside diphosphate sugars.
The decomposition of monosaccharides in the organism (for example, alcoholic fermentation; glycolysis) is accompanied by the release of energy. Some free monosaccharides and their derivatives (for example, glucose, fructose, and fructose diphosphate) are used in the food industry and in medicine.
REFERENCE
Khimiia uglevodov. Moscow, 1967.
The Great Soviet Encyclopedia, 3rd Edition (1970-1979). © 2010 The Gale Group, Inc. All rights reserved.