NFT
Also found in:
Dictionary
,
Acronyms
,
Wikipedia
.
NFT
Network File Transfer. An INTERLINK command on CERNVM.
This article is provided by FOLDOC - Free Online Dictionary of Computing (foldoc.org)
non-fungible token
A blockchain-based certification of ownership of a unique digital or non-digital item. Dating back to the 2010s, a non-fungible token (NFT) can represent a digital version of any artwork or collectible, many of which were created in the digital world and have never been anything but a digital file. An NFT can also certify ownership of any real-world object.

Where Is the NFT Object Stored?
NFTs reside on the blockchain, typically Ethereum, but the actual digital file of the art or collectible is stored on a website or in a compliant crypto wallet. Because any website is not guaranteed to remain online, a popular option is the IPFS decentralized storage system, which is somewhat similar to a blockchain (see IPFS).

A New Technology or Delusion?
The NFT uses blockchain technology to guarantee that this user is the only one with rights to the item. Many people think NFTs that certify art that resides only in the digital world are insane because every copy of a digital image is identical to the original, and copies are easily made. See screen capture, NFT rug pull and crypto art.

Nevertheless, 2021 Was a Bonanza Year
In March 2021, an NFT-based collage of 13 years' worth of daily digital art was auctioned at Christies. "Everydays" by American artist Mike Winklemann, who goes by the moniker "Beeple," sold for $69 million.

Also in March, Twitter founder Jack Dorsey sold his very first tweet as an NFT for nearly $3 million. The proceeds were donated to charity.

A YouTube video entitled "Charlie bit my finger" was posted on YouTube in 2007. Viewed hundreds of millions of times, in May 2021, the NFT of the video was sold for $760,000 (see below).

For Real or a Fad?
Proponents claim NFTs are a new form of art. Opponents say this is insanity as sale prices reach the stratosphere. However, non-fungible tokens may indeed be the way ownership rights to all kinds of intellectual property are secured in the future. The blockchain architecture guarantees proof of ownership. Stay tuned! See CryptoPunks, Cirus platform, fungible token, blockchain and Ethereum token.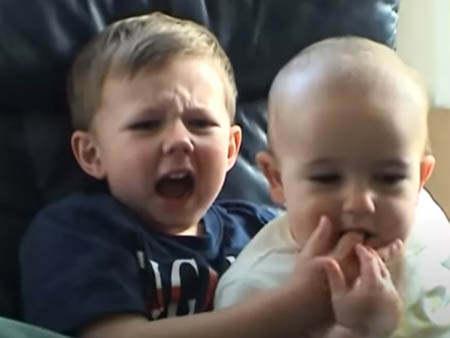 Charlie Bit Me!
Although Dubai-based 3F Music purchased the NFT of the video, the buyer decided not to remove it from YouTube because of its cultural value. Having been viewed more than 900 million times, the video gained huge notoriety. The proceeds are expected to pay for the education of Charlie and his brother Harry with the rest going to charity.
Copyright © 1981-2019 by The Computer Language Company Inc. All Rights reserved. THIS DEFINITION IS FOR PERSONAL USE ONLY. All other reproduction is strictly prohibited without permission from the publisher.