nanotechnology
(redirected from Nannotech)
Also found in:
Dictionary
,
Thesaurus
,
Medical
,
Financial
.
micromechanics
micromechanics,
the combination of minuscule electrical and mechanical components in a single device less than 1 mm across, such as a valve or a motor. Although micromechanical production processes and applications are still in the developmental stage, efforts have begun to develop machines—called micromachines or micromechanisms—1,000 times smaller.
Nanotechnology
is concerned with atomic- and molecular-scale devices. Such devices can be constructed using a
scanning tunneling microscope
. A single atom has been used as an electrical switch and an individual molecule used to convert alternating current into direct current. Cluster chemistry has produced small balls and tubes (see
fullerene
) containing between 10 and 1,000 atoms that may be useful in forming nano-thin wires and
transistors
that operate on just a few electrons. A third nanotechnological approach is to grow such devices from proteins, DNA, or synthesized organic molecules. Nanotechnologies are still in the laboratory stage, but practical applications are envisioned in such diverse areas as computers, pharmaceuticals, and metrology. For example, American chemist George M. Whitesides has used hydrocarbon molecules, called alkanethiols, that are self-assembling (i.e., arrange themselves into ordered, functioning entities without human intervention, as do living cells) to form ordered rows on a gold surface; such a process could be used to produce much thinner lines on an integrated circuit than can be accomplished using conventional techniques.
Bibliography
See K. E. Drexler and C. Peterson, with G. Pergamit, Unbounding the Future: The Nanotechnology Revolution (1991); A. J. Bard, Integrated Chemical Systems: A Chemical Approach to Nanotechnology (1994); E. Regis, Nano: The Emerging Science of Nanotechnology (1995).
The Columbia Electronic Encyclopedia™ Copyright © 2022, Columbia University Press. Licensed from Columbia University Press. All rights reserved.
nanotechnology
[

¦nan·ō·tek′näl·ə·jē

]

(engineering)

Systems for transforming matter, energy, and information that are based on nanometer-scale components with precisely defined molecular features.

Techniques that produce or measure features less than 100 nanometers in size.

McGraw-Hill Dictionary of Scientific & Technical Terms, 6E, Copyright © 2003 by The McGraw-Hill Companies, Inc.
Nanotechnology
Systems for transforming matter, energy, and information, based on nanometer-scale components with precisely defined molecular features. The term nan-otechnology has also been used more broadly to refer to techniques that produce or measure features less than 100 nanometers in size; this meaning embraces advanced microfabrication and metrology. Although complex systems with precise molecular features cannot be made with existing techniques, they can be designed and analyzed. Studies of nanotechnology in this sense remain theoretical, but are intended to guide the development of practical technological systems.
Nanotechnology based on molecular manufacturing requires a combination of familiar chemical and mechanical principles in unfamiliar applications. Molecular manufacturing can exploit mechanosynthesis, that is, using mechanical devices to guide the motions of reactive molecules. By applying the conventional mechanical principle of grasping and positioning to conventional chemical reactions, mechanosynthesis can provide an unconventional ability to cause molecular changes to occur at precise locations in a precise sequence. Reliable positioning is required in order for mechanosynthetic processes to construct objects with millions to billions of precisely arranged atoms.
Mechanosynthetic systems are intended to perform several basic functions. Their first task is to acquire raw materials from an externally provided source, typically a liquid solution containing a variety of useful molecular species. The second task is to process these raw materials through steps that separate molecules of different kinds, bind them reliably to specific sites, and then (often) transform them into highly active chemical species, such as radicals, carbenes, and strained alkenes and alkynes. Finally, mechanical devices can apply these bound, active species to a workpiece in a controlled position and orientation and can deposite or remove a precise number of atoms of specific kinds at specific locations.
Several technologies converge with nanotechnologies, the most important being miniaturization of semiconductor structures, driven by progress in microelectronics. More directly relevant are efforts to extend chemical synthesis to the construction of larger and more complex molecular objects. Protein engineering and supramolecular chemistry are active fields that exploit weak intermolecular forces to organize small parts into larger structures. Scanning probe microscopes are used to move individual atoms and molecules.
McGraw-Hill Concise Encyclopedia of Engineering. © 2002 by The McGraw-Hill Companies, Inc.
nanotechnology
/nan'-oh-tek-no"l*-jee/ Any fabrication technology in which objects are designed and built by the specification and placement of individual atoms or molecules or where at least one dimension is on a scale of nanometers.
The first unequivocal nanofabrication experiments took place in 1990, for example with the deposition of individual xenon atoms on a nickel substrate to spell the logo of a certain very large computer company.
Nanotechnology has been a hot topic in the hacker subculture ever since the term was coined by K. Eric Drexler in his book "Engines of Creation", where he predicted that nanotechnology could give rise to replicating assemblers, permitting an exponential growth of productivity and personal wealth.
See also
nanobot
.
http://lucifer.com/~sean/Nano.html
.
This article is provided by FOLDOC - Free Online Dictionary of Computing (foldoc.org)
nanotechnology
The science of developing materials at the atomic and molecular level in order to imbue them with special electrical and chemical properties. Nanotechnology, which deals with devices typically less than 100 nanometers in size, is making a significant contribution to the fields of computer storage, semiconductors, biotechnology, manufacturing and energy.

In the future, amazing nanotech-based products are expected, including extraordinarily tiny computers that are very powerful, building materials that withstand earthquakes, advanced systems for drug delivery and custom-tailored pharmaceuticals as well as the elimination of invasive surgery, because repairs can be made from within the body.

One Person Can Make a Breakthrough
Larry Bock, CEO of Nanosys, who helped launch more than a dozen successful biotech companies in his career, said that nanotech will impact even more industries than biotech. In an excerpted article from the March 2003 Nanotech Report, he compared nanotechnology with microelectronics. Bock said that "a single chemistry graduate student can create novel devices and device architectures not even imaginable or manufacturable by today's biggest microprocessor companies. That is because these devices are fabricated chemically, or from the bottom up. Existing microelectronics technology is fabricated by etching wafers, or from the top down." See AFM, STM, Buckyball, nanotube and MEMS.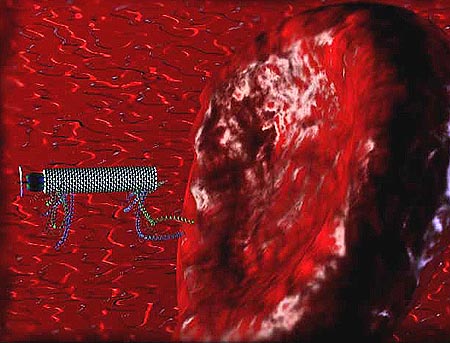 Fixing One Cell at a Time
By 2020, scientists at Rutgers University believe that nano-sized robots will be injected into the bloodstream and administer a drug directly to an infected cell. This robot has a carbon nanotube body, a biomolecular motor that propels it and peptide limbs to orient itself. Because it is composed of biological elements such as DNA and proteins, it will be easily removed from the body. (Image courtesy of the Bio-Nano Robotics team at Rutgers University: Constantinos Mavroidis, Martin L. Yarmush, Atul Dubey, Angela Thornton, Kevin Nikitczuk, Silvina Tomassone, Fotios Papadimitrakopoulos and Bernie Yurke.)
Copyright © 1981-2019 by The Computer Language Company Inc. All Rights reserved. THIS DEFINITION IS FOR PERSONAL USE ONLY. All other reproduction is strictly prohibited without permission from the publisher.