iPod nano
(redirected from Nanopod)
iPod nano
A flash-based digital music player from Apple, introduced in 2005 with a color screen and discontinued in 2017. Replacing the iPod Mini, the extremely popular nano caused iPod sales to explode, helping Apple begin its climb to outstanding success. Although "nano" suggests ultra-small, the iPod shuffle is smaller.

In 2008, with nine exterior colors, the 4th-generation nano was the most colorful iPod ever. It also added an accelerometer that switches the screen from portrait to landscape mode. Shake the nano, and it switches to music shuffle mode.

Video and FM in the Fifth Generation
Introduced in 2009, the 5th-generation nano added a video camera, FM radio and slightly larger screen (2.2" versus 2"). The camera is video only and not for stills.

A Touchscreen Sixth Generation - No More Video
In 2010, Apple introduced a different nano, replacing the rectangular unit and click wheel with a square touchscreen. The video recording and playback were dropped.

7th Generation - Rectangular and Video Again
In 2012, the 7th-generation thinner nano reverted to a rectangular shape that all nanos had except for the 6th generation. Screen size increased from 2.2" to 2.5", and Bluetooth was added, and video was brought back (between SD and HD resolution) for playing movies. See iPod and iPod models.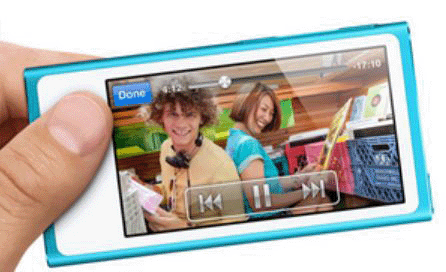 The 7G Nano - Rectangular and Video
The 7th-generation nano reverted to the rectangular shape of all nanos except for the 6th generation, and 576-line video was added. (Image courtesy of Apple Inc.)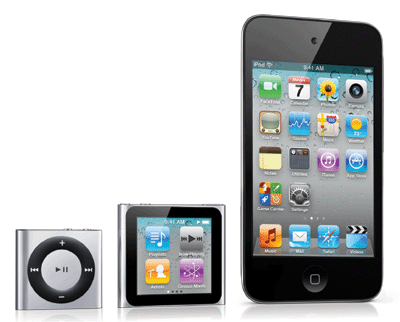 The 6G Touchscreen Nano
The 6th-generation nano (middle) was the only square model, and the click wheel and video were dropped. The iPod shuffle and iPod touch flank the nano. (Image courtesy of Apple Inc.)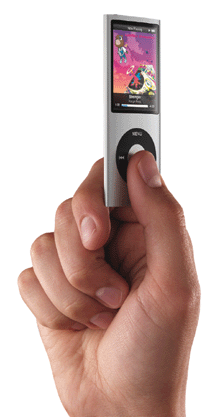 The Thinnest iPod Ever
Super thin, the 5th-generation nano was the last nano with a click wheel. It was available in nine exterior colors. (Image courtesy of Apple Inc.)
Copyright © 1981-2019 by The Computer Language Company Inc. All Rights reserved. THIS DEFINITION IS FOR PERSONAL USE ONLY. All other reproduction is strictly prohibited without permission from the publisher.