Naos
Also found in:
Dictionary
,
Medical
,
Legal
,
Acronyms
,
Wikipedia
.
naos
(nā`ŏs)

, inner portion of a Greek temple, enclosed within walls and generally surrounded by colonnaded porticoes. In it stood the statue of the deity to whom the temple was consecrated. The naos was provided with a columned porch, typically only in front (pronaos) but often also at the back (opisthodomos). It was the prototype for the cellacella
, the portion of a Roman temple that was enclosed within walls, as distinct from the open colonnaded porticoes that formed the rest of it. It corresponds to the naos in Greek temples.
.....

Click the link for more information.

of the Roman temple.
Naos
Inner sanctuary of a Greek temple.
Naos
in an ancient temple, the principal chamber or sanctuary, containing the sculptural representation of the deity.
cella, naos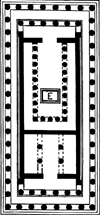 The sanctuary of a classical temple, containing the cult statue of the god.