Naos
(redirected from Naos (disambiguation))
Also found in:
Dictionary
.
naos
(nā`ŏs)

, inner portion of a Greek temple, enclosed within walls and generally surrounded by colonnaded porticoes. In it stood the statue of the deity to whom the temple was consecrated. The naos was provided with a columned porch, typically only in front (pronaos) but often also at the back (opisthodomos). It was the prototype for the cellacella
, the portion of a Roman temple that was enclosed within walls, as distinct from the open colonnaded porticoes that formed the rest of it. It corresponds to the naos in Greek temples.
.....

Click the link for more information.

of the Roman temple.

The Columbia Electronic Encyclopedia™ Copyright © 2013, Columbia University Press. Licensed from Columbia University Press. All rights reserved.

www.cc.columbia.edu/cu/cup/
Naos
(nay -oss) See Puppis.

Collins Dictionary of Astronomy © Market House Books Ltd, 2006
Naos
Inner sanctuary of a Greek temple.
Illustrated Dictionary of Architecture Copyright © 2012, 2002, 1998 by The McGraw-Hill Companies, Inc. All rights reserved
The following article is from The Great Soviet Encyclopedia (1979). It might be outdated or ideologically biased.
Naos
in an ancient temple, the principal chamber or sanctuary, containing the sculptural representation of the deity.
The Great Soviet Encyclopedia, 3rd Edition (1970-1979). © 2010 The Gale Group, Inc. All rights reserved.
cella, naos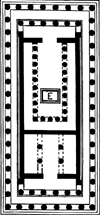 The sanctuary of a classical temple, containing the cult statue of the god.
McGraw-Hill Dictionary of Architecture and Construction. Copyright © 2003 by McGraw-Hill Companies, Inc.