navigator
(redirected from Navigators)
Also found in:
Dictionary
,
Thesaurus
,
Medical
.
navigator
[

′nav·ə'gād·ər

]

(navigation)

A person who navigates or is directly responsible for the navigation of a craft.

McGraw-Hill Dictionary of Scientific & Technical Terms, 6E, Copyright © 2003 by The McGraw-Hill Companies, Inc.
navigator
An individual who plots and directs the movement of the aircraft from the aircraft.
An Illustrated Dictionary of Aviation Copyright © 2005 by The McGraw-Hill Companies, Inc. All rights reserved
Navigator
This article is provided by FOLDOC - Free Online Dictionary of Computing (foldoc.org)
Netscape
(1) For the browser, see Netscape Navigator.

(2) (Netscape Communications Corporation, Mountain View, CA, www.aol.com) Part of America Online (AOL), Netscape was famous for its Navigator browser in the early days of the Web. Founded in 1994 by James Clark, former patriarch of SGI, and Marc Andreessen, who, along with Eric Bina, created the Mosaic browser at the University of Illinois, Netscape quickly became the number one topic regarding the Web as Internet fever enveloped the nation in the mid-1990s.

Netscape ignited dot-com fever, reaching a market cap of USD $2 billion so fast that it became the most successful IPO in history. It also caused Microsoft to restructure its entire product line to become Internet compliant. In record time, Microsoft created the Internet Explorer (IE) browser and gave it away free; then built it into Windows 98. As a result, Netscape was forced to make its browser free and watch its market share dwindle as IE became the dominant on-ramp to the Internet.

The Netscape browser was one of the main issues in the Microsoft antitrust trial, during which Netscape was acquired by AOL (see Netscape Navigator).
---
Netscape Navigator
An earlier Web browser for Windows, Mac and X Windows from Netscape Communications Corporation that provided secure transmission over the Internet. Soon after its introduction in 1994, Navigator, or just plain "Netscape," as it was commonly called, quickly became the leading browser on the Web. As of Version 6.0, the Navigator name was dropped, and February 1, 2008 was its last update.

Initially a paid product, Netscape was forced to give Navigator away after Microsoft launched its Internet Explorer (IE) browser as a free program. Soon after, Microsoft integrated IE into the Windows 98, and it quickly became the primary Web browser.

Website Ratings and Integrated Toolbars
In 2005, Netscape 8.0 was introduced for Windows with a website rating system that warned users of suspicious sites. For trustworthy sites, it rendered pages using Internet Explorer technology, but for dubious sites, pages were displayed in Gecko, the rendering engine used in Firefox.

Version 8.0 integrated toolbar buttons for weather, movies, stocks and other information, and a Webmail button could be configured to go to the user's Web-based email accounts. It also let family members have their own and settings. See Netscape.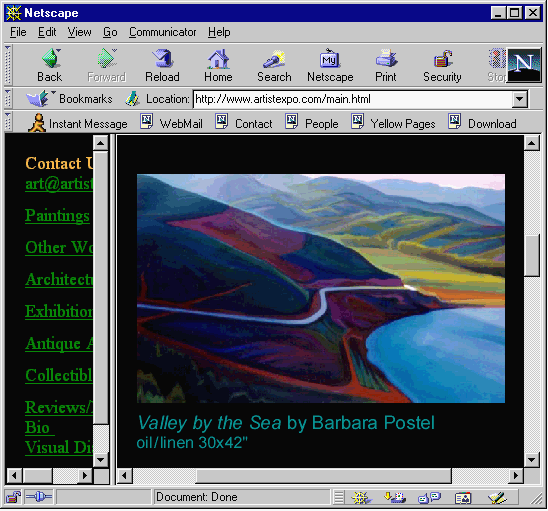 Netscape Navigator
The Navigator Web browser was part of Netscape's Communicator package, which included a variety of additional Internet utilities. (Web page example courtesy of Pyramid Studios, www.artistexpo.com)
---
Norton Navigator
An earlier Windows 95 file management and desktop utility from Symantec. It was the successor to Norton Desktop for Windows 3.x and provided multiple desktops and enhanced file manipulation, but omitted the backup and antivirus functions.

Copyright © 1981-2019 by The Computer Language Company Inc. All Rights reserved. THIS DEFINITION IS FOR PERSONAL USE ONLY. All other reproduction is strictly prohibited without permission from the publisher.