check valve
(redirected from Non return valve)
Also found in:
Dictionary
,
Medical
,
Acronyms
.
check valve
[

′chek 'valv

]

(mechanical engineering)

A device for automatically limiting flow in a piping system to a single direction. Also known as nonreturn valve.
Check Valve
a device that passes a stream of fluid or gas through a pipe only in one direction and closes automatically when the direction of the stream reverses. It is used in various thermal power engineering and production plants.
check valve, back-pressure valve, reflux valve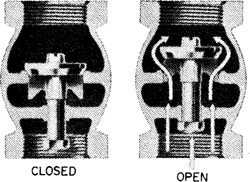 An automatic valve which permits liquid to flow in only one direction. Also see
non-return valve
.