Normal Derivative
normal derivative
[

′nȯr·məl di′riv·əd·iv

]

(mathematics)

The directional derivative of a function at a point on a given curve or surface in the direction of the normal to the curve or surface.

McGraw-Hill Dictionary of Scientific & Technical Terms, 6E, Copyright © 2003 by The McGraw-Hill Companies, Inc.
The following article is from The Great Soviet Encyclopedia (1979). It might be outdated or ideologically biased.
Normal Derivative
of a function defined in space (or in a plane), the derivative in the direction of the normal to some surface (or to a curve lying in the plane). Let S be a surface, P a point on S, and f a function in some neighborhood of P. Then the normal derivative of f at P is equal to the limit of the ratio of the difference f(A) — f(P) over the distance from A to P, where A is a point on the normal to S at P that approaches P from one side of S (see Figure 1).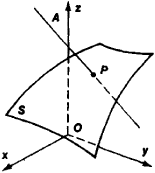 We distinguish between the derivative of f with respect to the outward-drawn and the inward-drawn normals to S, depending on the direction from which A approaches P. Consideration of normal derivatives is particularly important in the theory of boundary value problems.
The Great Soviet Encyclopedia, 3rd Edition (1970-1979). © 2010 The Gale Group, Inc. All rights reserved.