Notching
Also found in:
Dictionary
,
Thesaurus
,
Medical
,
Financial
,
Idioms
,
Wikipedia
.
notching
[

′näch·iŋ

]

(electricity)

Term indicating that a predetermined number of separate impulses are required to complete operation of a relay.

(mechanical engineering)

Cutting out various shapes from the ends or edges of a workpiece.
Notching
In carpentry, a method of joining timbers by cutting notches at the ends of a piece, then overlapping the notched pieces to form a joint.
Notching
(in mining), the process of making a cut in a mineral (coal, rock salt, and so on). Supplementary free surfaces are notched in the seam to be worked to facilitate breaking-out. Until the early 20th century, notching was done mainly by hand by miners and was one of the most laborious processes; notching is now performed by cutting machines.
notching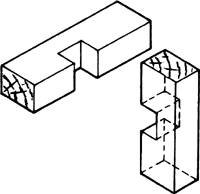 Joining of timbers, usually meeting or crossing at right angles, by cutting a notch in one or both pieces.