Note Edge
Also found in:
Dictionary
,
Thesaurus
,
Medical
.
Note Edge
The Samsung smartphone that provided rotating toolbars and curved screen that wrapped partially around the edge. This was the first unique touchscreen architecture since the advent of the smartphone. From 2014 to 2017, there were only three Edge models; however, both features were incorporated into subsequent Galaxy S and Galaxy Note models. See Galaxy S and Galaxy Note.

Note 4 Edge, Note Edge and Note 7
The first model was the 2014 Note 4 Edge with the curved screen on the right side. In 2015, Samsung dropped the number (Note 5 Edge was simply Note Edge). There was no Note Edge 6, and the ill-fated Note 7 models incorporated the curved screen at both ends like the S7 Edge and subsequent Galaxy S models.


ALL GALAXY NOTE EDGE SMARTPHONES                   Max Storage            Weight               (GB)Model       (oz.) Resolution  Int.  Ext**5.8" 7 Edge   6.7  1440x2960  256   ---
      6 Edge   Never made
 5.7" 5 Edge   6.1  1440x2960   32   128
 5.6" 4 Edge   6.1  1440x2560   32   128

 ** microSD External storage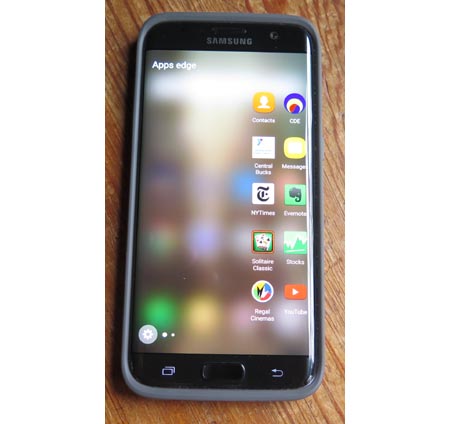 The Edge Toolbar
By swiping in from the edge, the screen is blurred and overlaid with icons of favorite apps. The Edge feature can be configured to rotate multiple columns of icons for apps, contacts, Web pages, sports results and other functions selected by the user. This image is actually a Galaxy S7 Edge, which inherited the Edge functionality.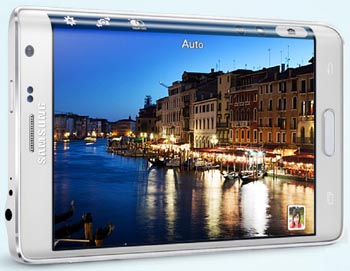 Another Advantage
In camera mode, the shutter button was in a more comfortable location (top right) similar to a dedicated camera. This feature was not carried into subsequent Galaxy models even though they had curved screens. (Image courtesy of Samsung Electronics Company, Ltd., www.samsung.com)