Nucleoside
Also found in:
Dictionary
,
Thesaurus
,
Medical
,
Wikipedia
.
nucleoside
[

′nü·klē·ə'sīd

]

(biochemistry)

The glycoside resulting from removal of the phosphate group from a nucleotide; consists of a pentose sugar linked to a purine or pyrimidine base.

McGraw-Hill Dictionary of Scientific & Technical Terms, 6E, Copyright © 2003 by The McGraw-Hill Companies, Inc.
The following article is from The Great Soviet Encyclopedia (1979). It might be outdated or ideologically biased.
Nucleoside
a compound that consists of a nitrogenous base and a carbohydrate. A nucleoside whose carbohydrate portion is ribose is called a ribonucleoside, and a deoxyribose-containing nucleoside is called a deoxyribonucleoside. Nucleosides have the following structural formula: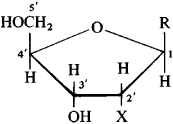 In deoxyribonucleosides, X is replaced by a hydrogen atom, while in ribonucleosides, a hydroxyl group replaces X. R can be any purine or pyrimidine base.
A nucleoside can be regarded as the product of the dephos-phorylation of a nucleotide. In a nucleoside, the purine or pyrimidine base is connected to the 1′ carbon atom by a β-glycoside bond. Nucleosides are named according to their base; thus, adenosine contains adenine, guanosine—guanine, uridine—uracil, cytidine—cytosine, and thymidine—thymine. The nucleosides that contain hypoxanthine and xanthine are called inosine and xanthosine, respectively. A few other nucleosides exist, which are structurally similar to those mentioned but which differ in the particular base, carbohydrate component, or type of internal bonds.
Free nucleosides are present in small quantities in several biological substances. The significance of most nucleosides, however, is their occurrence as constituents of nucleotides and nucleic acids.
The Great Soviet Encyclopedia, 3rd Edition (1970-1979). © 2010 The Gale Group, Inc. All rights reserved.