Nucleotides
Also found in:
Dictionary
,
Thesaurus
,
Medical
.
Nucleotides
the basic units of nucleic acids. Some nucleotides are coenzymes or other biologically active compounds. Each nucleotide is composed of a nitrogenous base, usually purine or pyrimidine; a carbohydrate, either ribose or deoxyribose; and a phosphoric acid residue.
To distinguish deoxyribonucleotides from ribonucleotides, the letter "d" usually precedes the name of a deoxyribonucleotide, for example, dAMP. Compounds that consist of two or three nucleotides are called dinucleotides and trinucleotides, respectively, while compounds that consist of a slightly larger number of nucleotides are called oligonucleotides. Compounds that contain many nucleotides are called polynucleotides, or nucleic acids.
A nucleotide can contain nitrogenous bases other than purines and pyrimidines, for example, nicotinamide mononucleotide is a compound of the base nicotinamide with a ribose and a phosphoric acid residue. As components of coenzymes, nucleotides participate in many metabolic processes. Examples of metabolically active nucleotides are nicotinamide adenine dinucleotide (NAD) and its phosphorylated derivative, NADP, and flavine adenine dinucleotide (FAD).
Free nucleotides are found in organs and tissues in the form of monophosphates, diphosphates, and triphosphates. Nucleotides with three phosphoric acid residues—nucleoside triphosphates—are high-energy compounds; these are the direct precursors in the biosynthesis of nucleic acids. Adenosine triphosphate (ATP) is especially important in all living matter as an energy storehouse and as a direct source of energy for various biological processes. Uridine diphosphate (UDP) participates in carbohydrate metabolism, acting as a carrier of monosaccharide residues. Cytidine phosphates perform a similar carrier function in lipid metabolism. Guanosine triphosphate (GTP) is involved in protein biosynthesis. Cyclic adenine monophosphate (cAMP) is important as a transmitter of hormone activity.
Nucleotides are present in DNA. The structural formulas of the most important nucleotides in DNA are given below and on page 332.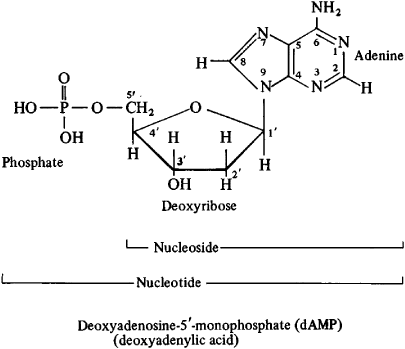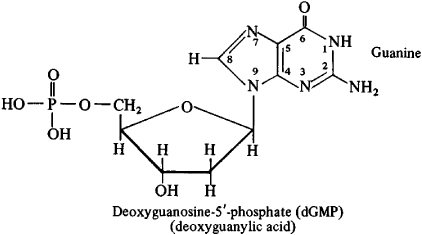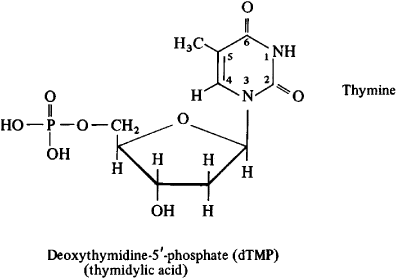 Nucleotides are biosynthesized from amino acids and other simpler compounds. Deoxyribonucleotides are synthesized from ribonucleotides by the reduction of ribose. In man, purine derivatives are oxidized to uric acid; in most mammals, these derivatives are oxidized to allantoin. Pyrimidines are decomposed to β-alanine and subsequently to urea.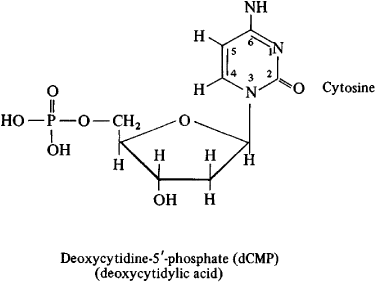 REFERENCE
Michelson, A. Khimiia nukleozidov i nukleotidov. Moscow, 1966. (Translated from English).