OCR
Also found in:
Dictionary
,
Thesaurus
,
Medical
,
Legal
,
Acronyms
,
Wikipedia
.
OCR
(Optical Character Recognition) The machine recognition of printed characters. OCR systems can recognize many different OCR fonts, as well as typewriter and computer-printed characters. Advanced OCR systems can recognize hand printing.

When a text document is scanned into the computer, it is turned into a bitmap, which is a picture of the text. OCR software analyzes the light and dark areas of the bitmap in order to identify each alphabetic letter and numeric digit. When it recognizes a character, it converts it into ASCII text (see ASCII file). Hand printing is much more difficult to analyze than machine-printed characters. Old, worn and smudged documents are also difficult. Scanning documents and processing them with OCR is sometimes as much an art as it is a science.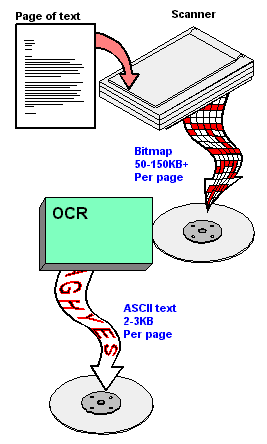 OCR Processing
When text documents are scanned, they are "photographed" and stored as pictures in the computer. OCR software converts the pictures into actual text characters, which take up considerably less room on disk.
OCR Machines
The "football field-long" machine (top) from Recognition Equipment, Inc. was used in the 1970s to process checks and credit card slips. The machine at the bottom is a contemporary unit. Both machines can handle OCR and MICR processing. (Images courtesy of BancTec, Inc.)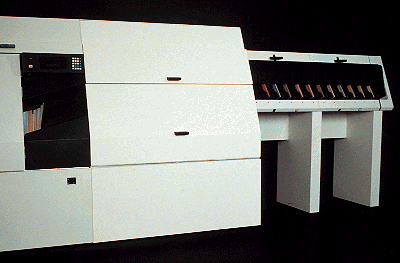 OCR Machines
The "football field-long" machine (top) from Recognition Equipment, Inc. was used in the 1970s to process checks and credit card slips. The machine at the bottom is a contemporary unit. Both machines can handle OCR and MICR processing. (Images courtesy of BancTec, Inc.)