Open DataBase Connectivity
(redirected from ODBC driver)
Open DataBase Connectivity
(standard, database)

(ODBC) A

standard

for accessing different

database

systems. There are interfaces for

Visual Basic

,

Visual C++

,

SQL

and the ODBC driver pack contains drivers for the

Access

,

Paradox

,

dBase

, Text,

Excel

and

Btrieve

databases.

An application can submit statements to ODBC using the ODBC flavor of SQL. ODBC then translates these to whatever flavor the database understands.

ODBC 1.0 was released in September 1992.

ODBC is based on

Call-Level Interface

and was defined by the

SQL Access Group

.

Microsoft

was one member of the group and was the first company to release a commercial product based on its work (under

Microsoft Windows

) but ODBC is not a Microsoft standard (as many people believe).

ODBC drivers and development tools are available now for

Microsoft Windows

,

Unix

,

OS/2

, and

Macintosh

.

["Unix Review", Aug 1995].

This article is provided by FOLDOC - Free Online Dictionary of Computing (foldoc.org)
ODBC
(Open DataBase Connectivity) A database programming interface from Microsoft that provides a common language for Windows applications to access databases on a network. ODBC is made up of the function calls programmers write into their applications and the ODBC drivers themselves.

For client/server database systems such as Oracle and SQL Server, the ODBC driver provides links to their database engines to access the database. For desktop database systems such as Access and FoxPro, the ODBC drivers actually manipulate the data. ODBC supports SQL and non-SQL databases. Although the application always uses SQL to communicate with ODBC, ODBC will communicate with non-SQL databases in its native language. See JDBC.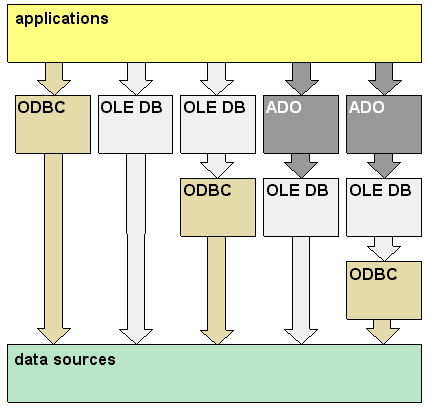 ODBC Interfaces
These are the various ways applications access data sources using ODBC and other Microsoft interfaces.
Copyright © 1981-2019 by The Computer Language Company Inc. All Rights reserved. THIS DEFINITION IS FOR PERSONAL USE ONLY. All other reproduction is strictly prohibited without permission from the publisher.