omega
(redirected from Omega (letter))
Also found in:
Dictionary
,
Thesaurus
,
Medical
,
Financial
.
omega
the 24th and last letter of the Greek alphabet (Ω, ω), a long vowel, transliterated as o or o
Collins Discovery Encyclopedia, 1st edition © HarperCollins Publishers 2005
omega
(

ω

)

1.

The 24th and last letter of the Greek alphabet used in

stellar nomenclature

usually to designate the 24th-brightest star in a constellation or sometimes to indicate a star's position in a group. See also

Omega Centauri

.

2. Symbol for angular velocity.

Collins Dictionary of Astronomy © Market House Books Ltd, 2006
Omega
[

ō′meg·ə

]

(navigation)

A worldwide radio navigation system providing navigational parameters by phase comparison of very-low-frequency (10 to 14 kilohertz), continuous-wave radio signals; terminated on September 30, 1997.

McGraw-Hill Dictionary of Scientific & Technical Terms, 6E, Copyright © 2003 by The McGraw-Hill Companies, Inc.
angular frequency (ω)
The
frequency
of a periodic quantity multiplied by 2p; expressed in radians.
McGraw-Hill Dictionary of Architecture and Construction. Copyright © 2003 by McGraw-Hill Companies, Inc.
OMEGA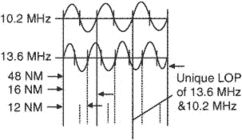 An obsolete ground-based, long-range, radio navigational aid, in which aircraft position was derived from the phase measurement or phase comparison of VLF (very low frequency) signals in the 10 to 14 kHz band. Every ten seconds, each of eight stations located around the world radiated a unique pattern on four common frequencies (10.2, 11.05, 11.3, and 13.6 kHz) in time-sharing cycles with a silent 0.2-s interval between each transmission. Besides these common frequencies, each of the stations transmitted on a unique frequency. Any time an aircraft OMEGA receiver received three frequencies,
the lines of position were fixed by the OMEGA navigational system computer. A highly automated aid, it provided highly accurate information about the wind velocity, time, distance, and course to the destination or waypoint; ETA (estimated time of arrival); and the present location of the aircraft.
An Illustrated Dictionary of Aviation Copyright © 2005 by The McGraw-Hill Companies, Inc. All rights reserved
Omega
(programming)

A

prototype

-based

object-oriented

language from Austria.

["Type-Safe Object-Oriented Programming with Prototypes - The Concept of Omega", G. Blaschek, Structured Programming 12:217-225, 1991].
Omega
(text, tool)

This article is provided by FOLDOC - Free Online Dictionary of Computing (foldoc.org)