Optical Square
Also found in:
Dictionary
,
Wikipedia
.
optical square
[

′äp·tə·kəl ′skwer

]

(engineering)

A surveyor's hand instrument used for laying of right angles; employs two mirrors at a 45° angle.
Optical Square
a very simple geodetic instrument that is used to lay off angles that are multiples of 90° or of 45°.
In a prism square (see Figure 1), the direction of a ray originating from the flag on the right is changed by 90° after refraction and internal reflection. To lay off the angle by which the direction of the ray is changed, a second flag is set up in such a way that, when it is seen over the instrument, it is exactly above the image of the first flag in the instrument.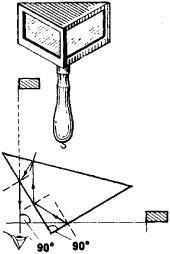 Optical squares are used to solve geometric problems on a terrain and to carry out plane surveys.