Organic Matter
Also found in:
Acronyms
,
Wikipedia
.
The following article is from The Great Soviet Encyclopedia (1979). It might be outdated or ideologically biased.
Organic Matter
a necessary minor component of soils, surface and subterranean waters, most rocks (particularly sedimentary rocks), and also the atmosphere (see Figure 1). Plants are the primary source for organic matter; animals account for a significantly smaller proportion.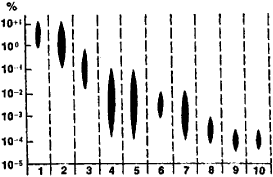 Three types of organic matter are distinguished according to original composition. Humic organic matter is formed primarily from higher plants and soil organisms, mainly microorganisms; it makes up a varying proportion of soils and is a major component of brown and hard coals. The hydrogen/carbon ratio for humus is usually less than 0.9. Sapropelic organic matter is a product of transformation of lower plants, mainly planktonic algae. It is characteristic of sapropelites, combustible shale, and dispersed organic matter, and its hydrogen/carbon ratio is usually greater than 1.2. Liptobiolitic organic matter forms because of concentration of the most chemically stable components of plant matter.
Other types of organic matter are also known that were formed because of the existence of several groups of animal organisms in the past—for example, chitinous remains of graptolites and a number of crustaceans. Both organic matter dispersed in sedimentary rock and concentrated organic matter (coals) undergo catagenesis in a number of stages, from brown coal, in a zone with temperatures up to 60°-70°C, to anthracite, in a zone with temperatures higher than 250°C. Organic matter is finally transformed into graphite in the zone of metagenesis (metamorphism).
The average content of organic matter in sedimentary rocks is about 15–20 kg/m3; the total mass in the continental sector of the sedimentary crust (continents and shelves) is as high as 1016 tons. Organic matter is the source of petroleum and fuel gases.
In magmatic rocks, organic matter is most often allochthonous, carried to the place of deposition by water. Sometimes such organic matter is related to the intrusion of petroleum or other naphthides. In some cases, organic matter reaches magmatic rock by assimilation of sedimentary matter by the rocks.
REFERENCES
Vassoevich, N. B. "Osnovnye zakonomernosti, kharakterizuiushchie organicheskoe veshchestvo sovremennykh i iskopaemykh osadkov." In Priroda organicheskogo veshchestva sovremennykh i iskopaemykh osadkov. Moscow, 1973.
Shvets, V. M. Organicheskie veshchestva podzemnykh vod. Moscow, 1973.
The Great Soviet Encyclopedia, 3rd Edition (1970-1979). © 2010 The Gale Group, Inc. All rights reserved.