Ortho-Chlorobenzamalonitrile
The following article is from The Great Soviet Encyclopedia (1979). It might be outdated or ideologically biased.
Ortho-Chlorobenzamalonitrile
colorless crystals with a melting point of 95°C and a boiling point of 310°C (with decomposition). The structural formula is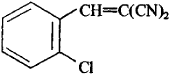 Ortho-chlorobenzamalonitrile is readily soluble in benzene and acetone, slightly soluble in alcohol, and poorly soluble in water. It is obtained from the reaction of o-chlorobenzaldehyde, ClC6H4CHO, with the dinitrile of malonic acid, CH2(CN)2, in the presence of catalysts. The resultant poisonous chemical agent irritates the eyes and the upper respiratory tract. Toxicity is primarily generated by blocking nerve endings through sulfhydryl groups.
The maximum tolerable atmospheric concentration of ortho chlorobenzamalonitrile is estimated at 5 × 10–4 mg per liter, given an exposure time of 1 min; higher concentrations irritate the skin, especially during perspiration. In some countries outside the USSR this poisonous chemical agent is called CS gas.
The Great Soviet Encyclopedia, 3rd Edition (1970-1979). © 2010 The Gale Group, Inc. All rights reserved.