Overrunning Clutch
Also found in:
Dictionary
,
Thesaurus
.
overrunning clutch
[

′ō·və'rən·iŋ ′kləch

]

(mechanical engineering)

A clutch that allows the driven shaft to turn freely only under certain conditions; for example, a clutch in an engine starter that allows the crank to turn freely when the engine attempts to run.

McGraw-Hill Dictionary of Scientific & Technical Terms, 6E, Copyright © 2003 by The McGraw-Hill Companies, Inc.
The following article is from The Great Soviet Encyclopedia (1979). It might be outdated or ideologically biased.
Overrunning Clutch
(also freewheeling clutch), a device used to connect two coaxial shafts or a shaft to a freely moving part that is seated on the shaft. An overrunning clutch transmits rotary motion and torque from a driving member to a driven member in one direction only. There are overrunning versions of positive clutches, including adaptations of the ratchet and jaw types; there are also overrunning friction clutches, with circular cylindrical and eccentric rollers and with self-tensioning helical springs (Figure 1).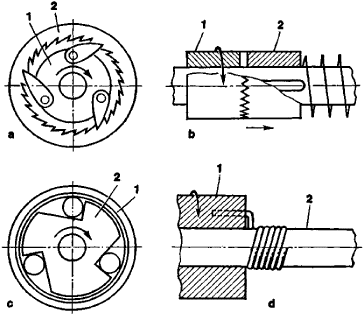 Overrunning clutches are used to prevent a reverse transmission of motion in a kinematic loop, such as motion from the driving wheel of a bicycle to the pedals. They are used to convert a rocking motion to a rotary motion, for instance, in the pulse type of continuously variable transmissions, or to impart to a slowly rotating shaft a faster rotation in the same direction, as, for example, in mechanisms for high-speed shifting in metal-cutting machines. Other applications include winding mechanisms and arresting devices, where reverse shaft rotation must be prevented.
The Great Soviet Encyclopedia, 3rd Edition (1970-1979). © 2010 The Gale Group, Inc. All rights reserved.