oxeye
(redirected from Ox-eye)
Also found in:
Dictionary
,
Thesaurus
.
oxeye,
name for several plants, e.g., the oxeye daisydaisy
[O.E.,=day's eye], name for several common wildflowers of the family Asteraceae (aster family). The daisy of literature, the true daisy, is Bellis perennis, called in the United States English daisy.
.....

Click the link for more information.

and black-eyed Susanblack-eyed Susan
or yellow daisy,
North American daisylike wildflower (Rudbeckia hirta) of the family Asteraceae (aster family) with yellow rays and a dark brown center. It is a weedy biennial or annual and grows in dry places.
.....

Click the link for more information.

, but particularly for two genera: Heliopsis, native to North America, and Buphthalmum, native to Europe and W Asia but cultivated elsewhere. Both are perennials of the family Asteraceae (asteraster
[Gr.,=star], common name for the Asteraceae (Compositae), the aster family, in North America, name for plants of the genus Aster, sometimes called wild asters, and for a related plant more correctly called China aster (Callistephus chinensis
.....

Click the link for more information.

family) and are grown as ornamentals for their showy yellow heads. Oxeyes are classified in the division MagnoliophytaMagnoliophyta
, division of the plant kingdom consisting of those organisms commonly called the flowering plants, or angiosperms. The angiosperms have leaves, stems, and roots, and vascular, or conducting, tissue (xylem and phloem).
.....

Click the link for more information.

, class Magnoliopsida, order Asterales, family Asteraceae.

The Columbia Electronic Encyclopedia™ Copyright © 2013, Columbia University Press. Licensed from Columbia University Press. All rights reserved.

www.cc.columbia.edu/cu/cup/
bull's-eye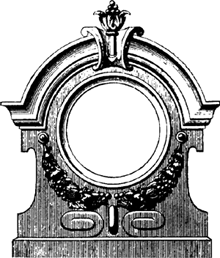 1. A figure or ornament of concentric bands.
3. The enclosure of such an aperture, a double-arched frame with two or four key voussoirs.
4. A circular aperture in a masonry wall; usually formed by voussoirs or tapered bricks.
---
gib
1. A steel strap used to clasp two members together.
---
oxeye window, oxeye
Same as bull's-eye window.
McGraw-Hill Dictionary of Architecture and Construction. Copyright © 2003 by McGraw-Hill Companies, Inc.
oxeye
symbol of long-suffering composure. [Flower Symbolism: Flora Symbolica, 176]
Allusions—Cultural, Literary, Biblical, and Historical: A Thematic Dictionary. Copyright 2008 The Gale Group, Inc. All rights reserved.