Oxazine Dyes
The following article is from The Great Soviet Encyclopedia (1979). It might be outdated or ideologically biased.
Oxazine Dyes
quinone imine dyes that are derivatives of oxazine (I). The most widely used oxazine dyes are the direct ones—light and dark blue in color—and those that are used as pigments—violet in color. The latter are prepared by condensation of chloranil (II) with aromatic or heterocyclic amines. Direct oxazine dyes are obtained by simultaneous condensation and sulfonation processes.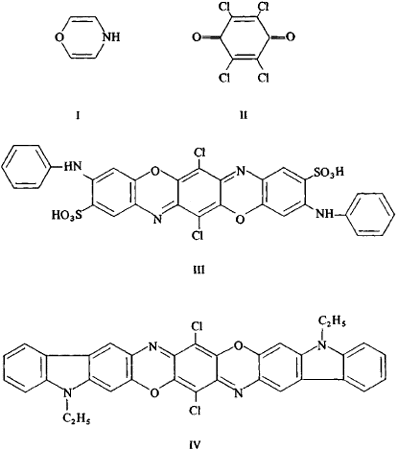 The important oxazine dyes—direct blue 107 (III), which is used in dyeing cotton fabric, and violet dioxazine pigment (IV)—are highly durable.
REFERENCE
Kogan, I. M. Khimiia krasitelei, 3rd ed. Moscow, 1956. 18–1053–2]
The Great Soviet Encyclopedia, 3rd Edition (1970-1979). © 2010 The Gale Group, Inc. All rights reserved.