PAC
Also found in:
Dictionary
,
Thesaurus
,
Medical
,
Legal
,
Financial
,
Acronyms
,
Wikipedia
.
political action committee
political action committee (PAC), U.S. organization formed by a corporation, labor union, or association to raise money for political activity. Funds can be gathered by voluntary contributions from members, employees, or shareholders. Political action committees were first organized in the 1940s. The Political Action Committee organized by the Congress of Industrial Organizations (CIO) in 1943 was a model for later PACs. The election reform of 1974 limited individual campaign contributions and set guidelines for PACs; a Supreme Court ruling in 2010 ended restrictions on their funding. Many PACs represent special-interest groups, e.g., the National Rifle Association of America; others represent large conservative or liberal coalitions. Others are aligned with individual political campaigns, though their efforts cannot be coordinated with those of the candidate's campaign. Many PACs have directed their contributions toward congressional elections, in which they can contribute up to $5,000 to a candidate for each campaign (primary, runoff, and general election). Some, however, conduct independent negative campaigns against candidates they oppose, both in primary and general elections. Federal legislation enacted in 2002 barred attacks on candidates by name immediately before an election, but that rule was eased by a Supreme Court decision in 2007. Since the Court decision of 2010 that eased fund-raising restrictions on PACs, groups known as super PACs have arisen; these seek large, unlimited donations, often from a few wealthy contributors, and have tended to work for the election of a specific candidate.
The Columbia Electronic Encyclopedia™ Copyright © 2022, Columbia University Press. Licensed from Columbia University Press. All rights reserved.
PAC
(1) See perceptual audio coding.

(2) (Programmable Automation Controller) A programmable microprocessor-based device that is used for discrete manufacturing, process control and remote monitoring applications. Designed for use in rugged, industrial environments, PACs combine the functions of a programmable logic controller (PLC) with the greater flexibility of a PC. They are also more easily set up for data collection and integration with the company's business applications than PLCs.

Although each PAC vendor uses its own development environment (IDE) and programming language, PAC networking is typically based on IP and Ethernet. Taking advantage of off-the-shelf microprocessors, PACs were developed in the 1990s to provide a single industrial controller that would provide the functions of a DCS and PLC. The term was coined in 2001 by the ARC Advisory Group (www.arcweb.com). Contrast with PLC and DCS.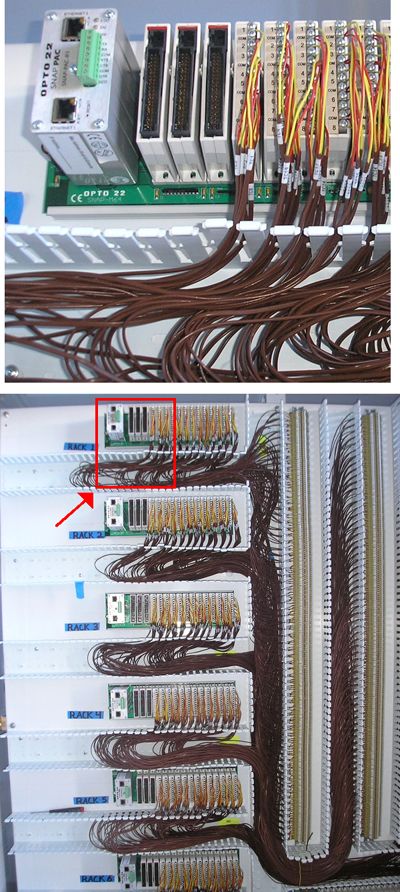 PACs in Operation
The large white boxes are Opto 22 SNAP PACs in Chevron's Richmond, Virginia research facility. Processing the PID loops, the wires come from thermocouples that sense pipe temperature in a laboratory test that analyzes the best way to break down crude oil. The PACs determine when to raise and lower temperatures, and the three modules with the black sockets send digital signals to the heaters (cables not connected in this image). (Image courtesy of Opto 22, www.opto22.com)
Copyright © 1981-2019 by The Computer Language Company Inc. All Rights reserved. THIS DEFINITION IS FOR PERSONAL USE ONLY. All other reproduction is strictly prohibited without permission from the publisher.