pier
Also found in:
Dictionary
,
Thesaurus
,
Medical
,
Financial
,
Acronyms
,
Idioms
,
Wikipedia
.
pier,
in engineering, term applied to a mass of reinforced concrete or masonry supporting a large structure, such as a bridge. When piers are built on ground of poor bearing value, it is often necessary to drive piles to obtain a firm base. Construction of piers built in riverbeds is facilitated by the use of cofferdams or caissons. Structures that extend out from the shore and over the water, serving as a place to land passengers and merchandise from vessels, are also known as piers. They are used in many harbors when there is ample width of stream; in New York harbor, for example, great economy of shore front is realized by building piers out at right angles to the shore. These piers are generally built on pile foundations. In architecture the term applies to the clustered Gothic pillar, to a wall between openings, and to a detached masonry mass serving as a gate post.
Pier
(Russian byk, bull), in construction, an intermediate support of bridges and hydraulic spillway structures (such as dams, spillways, and water intakes). Piers carry the weight of span structures of service and transport bridges and in hydraulic structures piers bear the load from the pressure of water passing through the gates, the load of the lifting gear, of the gates, and so on. Piers are constructed of concrete, reinforced-concrete, stone, and wood. Piers usually have a streamlined appearance, with icebreakers constructed on the upriver side of the piers.
---
Pier
a docking structure that extends into the harbor and is used to moor ships on both sides. Piers are used for cargo handling, boarding and disembarking, and repairing or fitting out docked vessels. They are particularly convenient in ports where the shoreline is limited, since they permit concentration of a large number of berths in a limited area and allow the placement of the line of berths where the depth of water is adequate. A distinction is made between broad and narrow piers. The former have a width of 60-250 m and a length that makes possible the docking of three to eight ships on each side. Narrow piers, which are 10-60 m wide, are designed to handle one or two ships alongside. Piers are usually arranged in groups that form what is known as a "comb" in Russian terminology.
REFERENCES
Porty i portovye sooruzheniia, part 2. Moscow, 1967.
Goriunov, B. F., and F. M. Shikhiev. Morskie porty i portovye sooruzheniia. Moscow, 1970.
pier
[

pir

]

(building construction)

A concrete block that supports the floor of a building.

(civil engineering)

A vertical, rectangular or circular support for concentrated loads from an arch or bridge superstructure.

A structure with a platform projecting from the shore into navigable waters for mooring vessels.
pier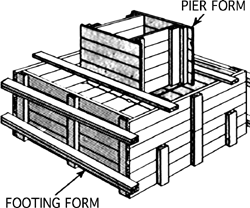 1. A column designed to support concentrated load.
2. A member, usually in the form of a thickened section, which forms an integral part of a wall; usually placed at intervals along the wall to provide lateral support or to take concentrated vertical loads.
pier
As it pertains to airports, a large corridor, usually two-level, connecting the airport terminal with the gates. The piers extend off of the main terminal.
pier
1. a structure with a deck that is built out over water, and used as a landing place, promenade, etc.
2. a pillar that bears heavy loads, esp one of rectangular cross section
3. the part of a wall between two adjacent openings
Pier
(dreams)

Sometimes a dreamer may stand on a pier looking out over the ocean (or other large body of water), sometimes waiting for a ship or a boat. The water symbolizes the unconscious and our emotions. It could also be considered the "water of life, " with meaning ranging form the simplest (as the necessity for life) to the most profound (life itself and all of its complexities). Its meaning can be drawn though analysis of your current situation and internal dynamics. If we are waiting for the opportunity to begin a new adventure, it could be reflected in this dream. Additionally, you may have a desire to get to know yourself better, to explore your own unconscious, and to grow in an emotional, psychological, or spiritual way. You are standing on a pier because you need or want to go on a journey in daily real life or an internal journey to your own unconscious.