PPC
Also found in:
Dictionary
,
Acronyms
,
Wikipedia
.
PPC
This article is provided by FOLDOC - Free Online Dictionary of Computing (foldoc.org)
pay-per-click
A Web marketing system in which the advertiser pays when the user clicks on its ad and goes to the site. Also known as "cost-per-click" (CPC), this is a results-oriented method compared to paying for just the placement of a banner ad on a Web page (see impression).

For ads on search engines, the advertiser that bid the most gets its ad to appear at the top of the results list; the second-highest appears next, and so on. After all paid advertisers are displayed, the regular search results appear. If the user clicks a pay-per-click ad, the advertiser's account is charged the amount of the bid. See CPL, CPA and click fraud.
---
Pocket PC
An earlier operating environment for handheld computers from Microsoft, based on the Windows CE operating system. Introduced in 2000, the Pocket PC included Pocket Office applications (Internet Explorer, Word and Excel), handwriting recognition, an e-book reader and wireless Internet. It was designed to compete with the Palm devices, which were popular at that time.

Pocket PC was part of the Windows Mobile platform and was renamed Windows Mobile Classic and Windows Mobile Professional in 2007. See Windows Mobile and Pocket PC Phone Edition.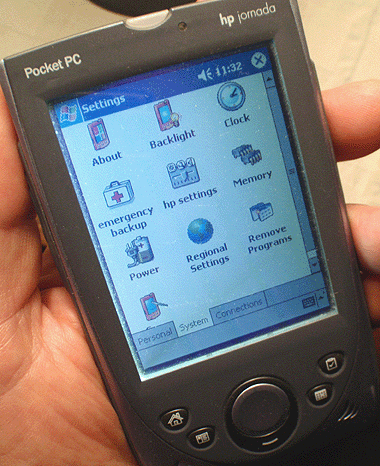 Handheld Windows
Pocket PCs such as this Jornada from HP emerged after the turn of the century, providing users with mobile versions of popular Windows programs.
---
PowerPC
A family of RISC-based CPU chips developed by IBM, Apple and Motorola. PowerPC chips have been used in a wide range of applications from embedded systems to supercomputers. They were used in Apple's Power Macs up to the G5, before Apple switched to Intel processors. Various models of IBM's System i and System p computers used PowerPC chips, and Freescale Semiconductor (formerly the Motorola chip division) features the Power Architecture for embedded systems in a variety of industries.

Although mostly compatible before, starting in 2006 with Power ISA 2.03, PowerPC chips were united in a common instruction set architecture (ISA) with IBM's POWER chips. For more information, visit www.power.org. See Power Mac, G5, POWER CPU, Power Systems, Apple-IBM Alliance and CHRP.

               WordPowerPC        Size  Tran-Model   Year  (bits) sistors  Notes

 Qor
 series  2008     64           Comms

 eSeries 2006  32-64           Automotive

 970     2003     64    52M    Mac G5

 7400    1999     32  10.5M    Mac G4

 750     1997     32   6.4M    Mac G3
 740     1997     32   6.4M    Mac G3

 604e    1996     32   5.1M
 603e**  1996     32   2.6M

 603     1995     32   1.6M
 604     1995     32   3.6M
 602**   1995     32     1M

 601     1993     32   2.8M

  ** low power for laptops

Copyright © 1981-2019 by The Computer Language Company Inc. All Rights reserved. THIS DEFINITION IS FOR PERSONAL USE ONLY. All other reproduction is strictly prohibited without permission from the publisher.