Palmer scan
Palmer scan
[

′päm·ər 'skan

]

(electronics)

Combination of circular or raster and conical radar scans; the beam is swung around the horizon, and at the same time a conical scan is performed.

McGraw-Hill Dictionary of Scientific & Technical Terms, 6E, Copyright © 2003 by The McGraw-Hill Companies, Inc.
Palmer scan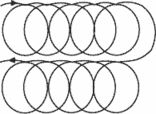 A radar technique in which conical scan is superimposed on some other form of scanning. For example, in Palmer sector, beam oscillates to and fro over azimuth sector while continuously making small-angel conical scan.
An Illustrated Dictionary of Aviation Copyright © 2005 by The McGraw-Hill Companies, Inc. All rights reserved