Pandora
(redirected from Pandora (mythology))
Also found in:
Dictionary
,
Thesaurus
.
Pandora
, in astronomy

Pandora

(păndôrˈə)

, in astronomy, one of the named moons, or natural satellites, of

Saturn

. Also known as Saturn XVII (or S17), Pandora is an irregularly shaped (nonspherical) body measuring about 71 mi (114 km) by 52 mi (84 km) by 38 mi (62 km); it orbits Saturn at a mean distance of 88,050 mi (141,700 km) and has an orbital period of 0.6285 earth days. The rotational period is unknown but is assumed to be the same as the orbital period. It was discovered by a team led by S. Collins in 1980 from an examination of photographs taken by

Voyager 1

during its flyby of Saturn. Pandora is more heavily cratered—with at least two of the craters being more than 18 mi (30 km) in diameter—than the nearby moon

Prometheus

but exhibits neither linear ridges nor valleys. Pandora is the outer shepherd satellite (a moon that limits the extent of a planetary ring through gravitational forces) of Saturn's F ring.
---
Pandora
, in Greek mythology

Pandora

(păndôrˈə)

, in Greek mythology, first woman on earth. Zeus ordered Hephaestus to create her as vengeance upon man and his benefactor, Prometheus. The gods endowed her with every charm, together with curiosity and deceit. Zeus sent her as a wife to Epimetheus, Prometheus' simple brother, and gave her a box that he forbade her to open. Despite Prometheus' warnings, Epimetheus allowed her to open the box and let out all the evils that have since afflicted man. Hope alone remained inside the box.

The Columbia Electronic Encyclopedia™ Copyright © 2022, Columbia University Press. Licensed from Columbia University Press. All rights reserved.
Pandora
(pan-dor -ă, -doh -ră) A small irregularly shaped satellite of Saturn, discovered in 1980 from photographs taken by Voyager 1. It appears to be heavily cratered, the two largest craters being some 30 km in diameter. Together with Prometheus, Pandora is a shepherd satellite for Saturn's F ring. See Saturn's rings; Table 2, backmatter.

Collins Dictionary of Astronomy © Market House Books Ltd, 2006
Pandora
(religion, spiritualism, and occult)

Pandora is the name of two distinct celestial bodies: A moon of Saturn and an asteroid. Pandora, the recently discovered (1980) moon in the Saturnian system, is about 55 miles in diameter and orbits Saturn in less than two-thirds of a terrestrial day at an average distance of 88,200 miles. Pandora, asteroid 55 (the 55th asteroid to be discovered, on September 10, 1858), has an orbital period a bit longer than 4½ years, and it is almost 113 kilometers in diameter. Both celestial bodies were named after the mythological Greek woman who released the ills of humanity by opening a box that the gods had sent her but had forbidden her from unsealing. Only the asteroid has been investigated by astrologers.

Pandora is one of the more recent asteroids to be investigated by astrologers. Preliminary material on Pandora can be found in Demetra George and Douglas Bloch's Astrology for Yourself, and an ephemeris (table of celestial locations) for Pandora can be found in the second edition of George and Bloch's Asteroid Goddesses. Unlike the planets, which are associated with a wide range of phenomena, the smaller asteroids are said to represent a single principle. George and Bloch give Pandora's principle as "curiosity that initiates change." Zipporah Dobyns also associates Pandora with curiosity and has found it prominent in the charts of many astrologers. J. Lee Lehman sees the effect of Pandora as twofold: "to stir a person into doing something, and to produce unintended options of the person." Jacob Schwartz gives this asteroid's significance as "encountering unanticipated ramifications and options of a larger process, caught off-guard, curiosity initiating change."
Sources:
Dobyns, Zipporah. Expanding Astrology's Universe. San Diego: Astro Computing Services, 1983.
Dobyns. Asteroid Goddesses: The Mythology, Psychology and Astrology of the Reemerging Feminine. 2d. ed. San Diego: Astro Computing Services, 1990.
George, Demetra, with Douglas Bloch. Astrology for Yourself: A Workbook for Personal Transformation. Berkeley, CA: Wingbow Press, 1987.
Lehman, J. Lee. The Ultimate Asteroid Book. West Chester, PA: Whitford Press, 1988.
Schwartz, Jacob. Asteroid Name Encyclopedia. St. Paul, MN: Llewellyn Publications, 1995.
The Astrology Book, Second Edition © 2003 Visible Ink Press®. All rights reserved.
The following article is from The Great Soviet Encyclopedia (1979). It might be outdated or ideologically biased.
Pandora
in classical Greek mythology, a woman created by Hephaestus at the order of Zeus to punish mortals for Prometheus' abduction of fire from the gods. According to the myth, Hephaestus fashioned Pandora from water and earth, endowing her with the appearance of a goddess and the voice of a mortal. Aphrodite gave Pandora irresistible charm, and Hermes gave her cunning, deceitfulness, and treachery. Athena wove beautiful garments for her.
With her beauty, Pandora captivated the brother of Prometheus, Epimetheus, and became his wife. In Epimetheus' house was a box, which had never been opened because it contained all the woes of mankind. Pandora, curious, opened the box and released all the misfortunes that have afflicted men ever since. In accordance with the will of Zeus, the lid slammed shut with only hope remaining at the bottom of the box. P. P. Rubens and other artists have created works dealing with the myth of Pandora.
The Great Soviet Encyclopedia, 3rd Edition (1970-1979). © 2010 The Gale Group, Inc. All rights reserved.
Pandora
[

pan′dȯr·ə

]

(astronomy)

A satellite of Saturn which orbits at a mean distance of 88,000 miles (142,000 kilometers), just outside the F ring; together with Prometheus, it holds this ring in place.

McGraw-Hill Dictionary of Scientific & Technical Terms, 6E, Copyright © 2003 by The McGraw-Hill Companies, Inc.
Pandora
inquisitively opens box of plagues given by Zeus. [Gk. Myth.: Zimmerman, 191]
Allusions—Cultural, Literary, Biblical, and Historical: A Thematic Dictionary. Copyright 2008 The Gale Group, Inc. All rights reserved.
Pandora
(language)

Parlog

extended to allow don't-know nondeterminism.

["Pandora: Non-Deterministic Parallel Logic Programming", R. Bahgat et al, Proc 6th Intl Conf Logic Programming, MIT Press 1989 pp. 471-486].

This article is provided by FOLDOC - Free Online Dictionary of Computing (foldoc.org)
Pandora
A leading music streaming and Internet radio service from Pandora Media, Inc. (www.pandora.com). Pandora lets users create their own personalized radio stations by selecting a favorite artist and voting thumbs up or down on each song that is delivered. The more songs listened to and voted on, the more Pandora fine tunes the station to the user's music preferences. Songs can be heard on the computer or a mobile device.

The Music Genome Project
The heart of Pandora is the Music Genome Project that was started in 2000 by Will Glaser, Jon Kraft and Tim Westergren. It is a musicological study analyzing 400 attributes of a song, including melody, harmony, the singer's voice and instruments. Pandora uses its history of billions of thumbs up and down in combination with the music DNA to recommend songs. It should be noted that the "music DNA" has no relationship to the acoustic fingerprints used to identify a song (see acoustic fingerprint). See Last.fm, music recommendation service and music search.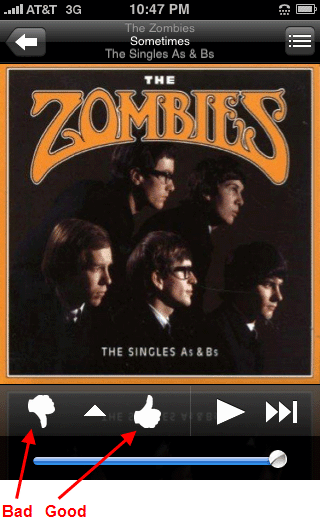 Thumbs Up or Down
By voting yeah or nay on the songs Pandora recommends, the system is able to fine tune subsequent selections for each user. In addition, all the "those-who-like-this-also-like-that" history that Pandora collects helps make recommendations to other users better.
Copyright © 1981-2019 by The Computer Language Company Inc. All Rights reserved. THIS DEFINITION IS FOR PERSONAL USE ONLY. All other reproduction is strictly prohibited without permission from the publisher.