Park
Also found in:
Dictionary
,
Thesaurus
,
Medical
,
Legal
,
Financial
,
Acronyms
,
Idioms
,
Wikipedia
.
park
1. a large area of land preserved in a natural state for recreational use by the public
2. a piece of open land in a town with public amenities
3. NZ an area, esp of mountain country, reserved for recreational purposes
4. a large area of land forming a private estate
5. English law an enclosed tract of land where wild beasts are protected, acquired by a subject by royal grant or prescription
6. an area designed and landscaped to accommodate a group of related enterprises, businesses, research establishments, etc.
8. the park Brit informal a soccer pitch
9. a gear selector position on the automatic transmission of a motor vehicle that acts as a parking brake
10. a high valley surrounded by mountains in the western US
---
Park
1. Mungo . 1771--1806, Scottish explorer. He led two expeditions (1795--97; 1805--06) to trace the course of the Niger in Africa. He was drowned during the second expedition
2. Nick, full name Nicholas Wulstan Park. born 1958, British animator and film director; his films include A Grand Day Out (1992), which introduced the characters Wallace and Gromit, and the feature-length Chicken Run (2000)
3. Chung Hee. . 1917--79, South Korean politician; president of the Republic of Korea (1963--79); assassinated
Park
A tract of land set aside for public use; a landscaped city square; also an expanse of enclosed grounds for recreational use within or adjoining a town.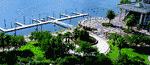 Park
a tract of land with natural or specially planted vegetation and often including roads, footpaths, and bodies of water. Parks are used for rest and recreation. A formal park, such as Nizhnii Park in Petrodvorets (early 18th century), is marked by the geometric layout of paths, flower beds, pools, and other elements. The trees and shrubs are often trimmed. A landscape park, for example, the park in Pavlovsk (late 18th century), is usually subject to the relief of the area and thus is more reminiscent of actual nature. Such a park has lawns, ravines, small rivers, lakes, and ponds.
park
An area, usually of public land set aside for recreation and leisure, usually owned and managed by a municipality, a state, a nation, or held by royal grant, or in some cases by private organizations.
park
To retract the read/write head on a hard disk to its home location before the unit is physically moved in order to prevent damage. Most modern drives park themselves when the power is turned off. See drop protection.