Perret, Auguste
Perret, Auguste
Perret, Auguste
(ōgüstˈ pĕrāˈ)
, 1874–1954, French architect. He left the Académie des Beaux-Arts in Paris to join the family construction firm with his brother Gustave, and began to experiment with the new building material, reinforced concrete. Early works in Paris, such as the house on the rue Franklin (1902–3), the Garage Ponthieu (1905–6), and the Théâtre des Champs-Élysées (1910–11), show the use of reinforced concrete in a classicizing framework of posts and beams. In the latter two buildings the concrete frame is itself exposed in some areas. Perret's famous church at Le Raincy, near Paris (1922–23), is perhaps the first architecturally satisfactory building in the new material. Tall, lithe columns support low-arching vaults, and the structure is surrounded by a continuous wall of glass supported by prefabricated concrete units. In warehouses and factories Perret also made use of concrete vaulting. After World War II he contributed plans for the rebuilding of parts of Le Havre, Amiens, and Marseilles. He is considered one of the most important French architects of his generation.
Bibliography
See P. Collins, Concrete: The Vision of a New Architecture (1959).
The Columbia Electronic Encyclopedia™ Copyright © 2022, Columbia University Press. Licensed from Columbia University Press. All rights reserved.
Perret, Auguste
(1874–1955)

French architect. His 25 Rue Franklin apartment house (illus.), in Paris, France (1903) was an early example of re-inforced-concrete frame construction. He designed the Garage Ponthiew (1906) and Notre-Dame du Raincy (1922), a hall-church design built with reinforced-concrete vaults and walls glazed with stained glass, both in Paris, France.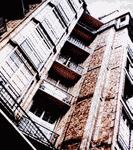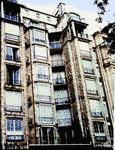 Illustrated Dictionary of Architecture Copyright © 2012, 2002, 1998 by The McGraw-Hill Companies, Inc. All rights reserved
The following article is from The Great Soviet Encyclopedia (1979). It might be outdated or ideologically biased.
Perret, Auguste
Born Feb. 12, 1874, in Brussels; died Mar. 4, 1954, in Paris. French architect.
Perret studied at the Ecole des Beaux Arts in Paris with L. S. Bernier and J. Guadet. In 1928 he became a professor at the Special School of Architecture in Paris. He was made an honorary president of the International Union of Architects in 1948.
Perret was among the first to design buildings entirely of reinforced concrete. Seeking to endow the framework with aesthetic qualities, as in half-timber (fachwerke) Gothic buildings, he strove for the complete coordination of architectural form and design. This is evident in many of his buildings in Paris, including an apartment house on Franklin Street (1903), a garage on Ponthieu Street (1905-06, demolished in the 1960's), a theater on the Champs Elysées (1911-13), and the Church of Notre Dame du Raincy (1922-23).
For primarily utilitarian purposes, Perret's industrial designs were as simple and efficient as possible. Such designs characterized the docks in Casablanca (1915), a plant in Montataire (Oise Department, 1920), and a plant in Issoire (Puy-de-Dôme Department, 1939). Attempts to combine efficient construction methods with a neoclassical style, which marked Perret's work in the 1920's and 1930's, resulted eventually in a dryness of form (for example, the Nuclear Research Center in Saclay, Essonne Department, 1947-53). During the last years of his life, the architect worked on large-scale urban construction projects, such as the reconstruction of the destroyed parts of Le Havre (begun in 1947).
WORKS
Contribution à une théorie de l'architecture. Paris [1952].
REFERENCES
Rogers, E. A. Perret. Milan, 1955.
Zahar, M. D'une doctrine d'architecture: A. Perret. Paris [1959].
The Great Soviet Encyclopedia, 3rd Edition (1970-1979). © 2010 The Gale Group, Inc. All rights reserved.