Simon
(redirected from Peter the Apostle, Saint)
Also found in:
Dictionary
,
Thesaurus
,
Medical
.
Simon,
in the Bible. 1 One of the MaccabeesMaccabees
or Machabees
, Jewish family of the 2d and 1st cent. B.C. that brought about a restoration of Jewish political and religious life. They are also called Hasmoneans or Asmoneans after their ancestor, Hashmon.
.....

Click the link for more information.

. 2 or Simon Peter: see Peter, SaintPeter, Saint,
d. A.D. 64?, most prominent of the Twelve Apostles, listed first in the Gospels, and traditionally the first bishop of Rome. His original name was Simon, but Jesus gave him the nickname Cephas [Aramaic, = rock], which was translated into Greek as Petros [Gr.
.....

Click the link for more information.

. 3 See Simon, SaintSimon, Saint
, in the New Testament, one of the Twelve Apostles. In the Gospels he is called the Canaanite or Cananaean or Zelotes, synonymous terms referring probably to association with the sect of Zealots. Feast (with St. Jude): Oct. 28.
.....

Click the link for more information.

. 4 Kinsman of Jesus. 5 Leper of Bethany in whose house a woman anointed Jesus' feet. He may have been the father of Lazarus. 6 Pharisee in whose house Jesus was entertained. 7 Father of Judas Iscariot. 8 See Simon of CyreneSimon of Cyrene
, in the New Testament, bystander made to carry Jesus' cross. He was probably an African Jew, and is identified as the father of Alexander and Rufus.
.....

Click the link for more information.

. 9 Tanner of Joppa with whom Peter stayed. 10 See Simon MagusSimon Magus
, Samaritan sorcerer who attempted to buy spiritual power from the apostles. From this comes the term simony. He is mentioned in the Acts of the Apostles. He was said to have founded a Gnostic sect.
.....

Click the link for more information.

.

The Columbia Electronic Encyclopedia™ Copyright © 2013, Columbia University Press. Licensed from Columbia University Press. All rights reserved.

www.cc.columbia.edu/cu/cup/
Simon
1.
New Testament
a. a relative of Jesus, who may have been identical with Simon Zelotes (Matthew 13:55)
b. a Christian of Joppa with whom Peter stayed (Acts of the Apostles 9:43)
2. John (Allsebrook), 1st Viscount Simon. 1873--1954, British statesman and lawyer. He was Liberal home secretary (1915--16) and, as a leader of the National Liberals, foreign secretary (1931--35), home secretary (1935--37), Chancellor of the Exchequer (1937--40), Lord Chancellor (1940--45)
3. (Marvin) Neil. born 1927, US dramatist and librettist, whose plays include Barefoot in the Park (1963), California Suite (1976), Biloxi Blues (1985), Lost in Yonkers (1990), and London Suite (1995): many have been made into films
4. Paul. born 1942, US pop singer and songwriter. His albums include: with Art Garfunkel (born 1941), The Sounds of Silence (1966), and Bridge over Troubled Water (1970); and, solo, Graceland (1986), The Rhythm of the Saints (1990), and You're The One (2000)
Collins Discovery Encyclopedia, 1st edition © HarperCollins Publishers 2005
personal communicator
A concept for a handheld mobile device that was co-created by Toronto engineer Robert J. Fraser in 1991. The personal communicator was conceived to provide always-on, wireless connectivity to a nationwide network for information retrieval and transactions as well as calendar synchronization, messaging and email. Contacts and to-do lists were also envisioned.

Humble Beginnings
At least two devices with the personal communicator moniker appeared within a couple years. AT&T offered the EO in 1993, and IBM, in conjunction with BellSouth, introduced the Simon in 1994. Apple's Newton was introduced in the same time frame, but had only a fax/modem and infrared communications. All of these handhelds were underpowered for the tasks at hand and never took off.

An Eventual Reality
The functionality in Fraser's device did materialize a decade later when the Internet became ubiquitous and devices such as the BlackBerry emerged. After the turn of the century, wireless PDAs using cellular networks (true personal communicators) became a reality and eventually evolved into the smartphone. See PDA and smartphone.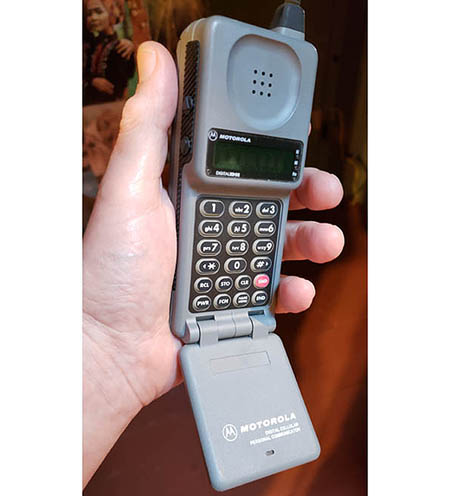 A Cellphone Personal Communicator
In 1989, as part of its MicroTAC line, Motorola introduced the Digital Cellular Personal Communicator, which was only a cellphone. See flip phone.
Copyright © 1981-2019 by The Computer Language Company Inc. All Rights reserved. THIS DEFINITION IS FOR PERSONAL USE ONLY. All other reproduction is strictly prohibited without permission from the publisher.