smartphone
(redirected from Phone PDA)
Also found in:
Dictionary
.
smartphone:
see cellular telephonecellular telephone
or cellular radio,
telecommunications system in which a portable or mobile radio transmitter and receiver, or "cellphone," is linked via microwave radio frequencies to base transmitter and receiver stations that connect the user to a conventional
.....

Click the link for more information.

.
smartphone
A combination cellphone and handheld computer that created the greatest tech revolution since the Internet. A smartphone can do everything a personal computer can do, and because of its mobility, much more. Although screen size is a limitation, the increasingly higher resolutions make viewing pleasurable (see phablet), and voice recognition can eliminate a fair amount of typing.

A smartphone combines a cellphone with e-mail and Web, music and movie player, camera and camcorder, GPS navigation, voice dictation for messaging and a voice search for asking questions about anything (see virtual assistant). A lot more personal than a personal computer, a smartphone is generally within reach no matter where you are.

Smartphone Apps
Like any computer, what gives life to the hardware is the software, and there are hundreds of thousands of mobile applications, both free and paid (see online app store). All apps are created for both iPhones and Androids and sometimes for Windows phones. BlackBerrys are pretty much defunct. See how to select a mobile device, smartphone features, smartphone operating system and cellphones vs. smartphones.

A Dumb Phone and Smart Everything Else
Ironically, the least spectacular thing about a smartphone is the phone. A smartphone can cut in and out and drop calls like any cellphone, and the more users making calls within a cell tower's reach at a given moment, the more likely interruptions will occur.

History
In 1994, IBM and BellSouth introduced the heavy and pricey Simon Personal Communicator, a phone/PDA touted as the first smartphone (see personal communicator). Amassing a large audience in the 2000s, BlackBerry became the popular corporate smartphone; however, in 2007, the iPhone changed the industry forever. See iPhone, Android, BlackBerry, Windows Phone, Symbian, feature phone and smartphone keyboard. See also smart TV.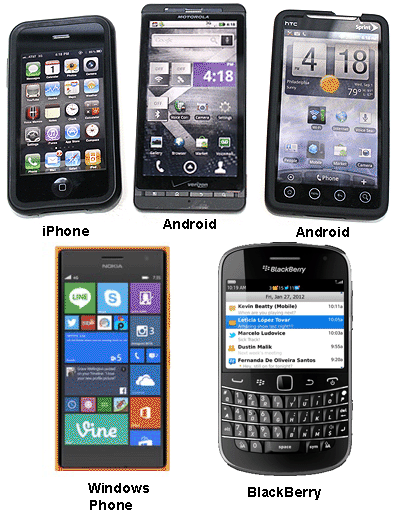 Smartphone Platforms
These models were some of the first smartphones on the market. Both iPhones and Windows have consistent user interfaces; however, Android manufacturers often add their own interface features. In its heyday, the BlackBerry's physical keyboard was its trademark.

A Double Touchscreen Smartphone
With an LCD in front and E Ink screen in back, YotaPhone batteries last up to five days in E Ink mode, and it is the only smartphone visible in bright sunlight. See E Ink.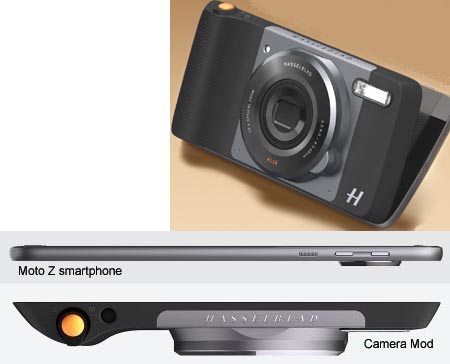 A Modular Smartphone
In 2016, Motorola introduced its Moto Z family of modular phones. Snap-ons add high-fidelity speakers, a pico projector or, as in this example, a professional Hasselblad camera. See Moto Z. (Image courtesy of Motorola Mobility LLC, www.motorola.com)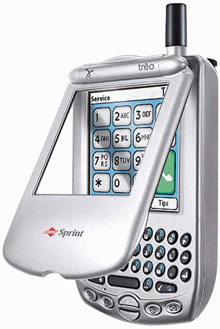 One of the First
In 2002, this Palm Treo ran the popular Palm PDA application along with e-mail and Web browsing. See Palm. (Image courtesy of Palm, Inc.)