Piranesi, Giovanni Battista
Also found in:
Dictionary
.
Piranesi, Giovanni Battista
Piranesi, Giovanni Battista
(jōvänˈnē bät-tēˈstä pēränāˈzē)
, 1720–78, Italian etcher and architect. The greater part of his life was spent in Rome, where he made etchings of the buildings and monuments of the ancient and modern city. His architectural plates are notable for their accuracy and grandeur, although in his admiration for these monuments, he occasionally exaggerated their scale. In other etching series, he created fanciful reconstructions of Roman monuments and dark visions of imaginary prisons, as in the
Carceri
plates. The one existing building that he designed is the Church of Santa Maria Priorato, Rome (1764–65).
Bibliography
See studies by A. M. Hind (1922), A. H. Mayor (1952), H. Thomas (1954), P. Murray (1972), J. Scott (1975), and J. Wilton-Ely (1978).
The Columbia Electronic Encyclopedia™ Copyright © 2022, Columbia University Press. Licensed from Columbia University Press. All rights reserved.
Piranesi, Giovanni Battista
(1720–1778)

Italian architect and artist who produced etchings and engravings of imaginary scenes of antiquity. He published Della Magnificenza ed Architecttura dei Romani, and Invenzioni Capric di Carceri, the "Prisons" (c. 1745).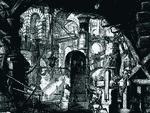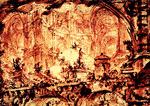 Illustrated Dictionary of Architecture Copyright © 2012, 2002, 1998 by The McGraw-Hill Companies, Inc. All rights reserved
The following article is from The Great Soviet Encyclopedia (1979). It might be outdated or ideologically biased.
Piranesi, Giovanni Battista
Born Oct. 4, 1720, in Mojano, Veneto; died Nov. 9, 1778, in Rome. Italian engraver and architect.
Piranesi was influenced by ancient Greek and Roman architecture and by baroque set design (Galli da Bibbiena). Working in a technique that combined etching with engraving, Piranesi created architectural fantasies, which are striking in the superhuman grandeur of spatial solutions and dramatic chiaroscuro (for example, the cycles Carceri d'Invenzione, c. 1745–50 and 1760–61). He invested his landscape engravings with an element of romantic invention, which make the architectural monuments particularly impressive and picturesque (the cycles The Etchings of Rome, 2 vols., 1748–88). Piranesi's engravings, particularly those of a decorative nature, greatly influenced the development of the Empire style.
REFERENCES
Toropov, S. A. Dzhovanni Battista Piranezi: Izbrannye oforty. Moscow, 1939.
Volkmann, H. G. B. Piranesi, Architekt und Graphiker. Berlin, 1965.
The Great Soviet Encyclopedia, 3rd Edition (1970-1979). © 2010 The Gale Group, Inc. All rights reserved.