piston
(redirected from Pistons)
Also found in:
Dictionary
,
Thesaurus
,
Wikipedia
.
piston
a disc or cylindrical part that slides to and fro in a hollow cylinder. In an internal-combustion engine it is forced to move by the expanding gases in the cylinder head and is attached by a pivoted connecting rod to a crankshaft or flywheel, thus converting reciprocating motion into rotation
Collins Discovery Encyclopedia, 1st edition © HarperCollins Publishers 2005
The following article is from The Great Soviet Encyclopedia (1979). It might be outdated or ideologically biased.
Piston
the moving component of a reciprocating engine that is fitted to the internal surface of a cylinder and moves back and forth along the direction of the cylinder's axis. In engines, power cylinders, and presses, the piston transmits the pressure of a working fluid—gas, vapor, or liquid—to the moving parts. In some types of engines, such as two-cycle internal-combustion engines, the piston also plays a role in the gas distribution process. In pumps and compressors, the suction, compression, and delivery of the liquid or gas are accomplished by the reciprocating piston.
A piston may be of the trunk, disk, or plunger type, depending on the piston's length-to-diameter ratio and on the piston's design. The trunk piston, whose length is somewhat greater than its diameter, has a head, grooves for piston rings, and a guide skirt. The height of a disk piston is determined only by the size of the sealing device; the rod on which the piston is mounted serves to align the piston. The plunger piston, whether a plunger, ram, or pin, usually operates with a smooth surface; its length is several times greater than its diameter.
In rotary-piston internal-combustion engines, a rotor performs the functions of a piston in transmitting the pressure of a working fluid to the moving parts.
The Great Soviet Encyclopedia, 3rd Edition (1970-1979). © 2010 The Gale Group, Inc. All rights reserved.
piston
[

′pis·tən

]

(electromagnetism)

A sliding metal cylinder used in waveguides and cavities for tuning purposes or for reflecting essentially all of the incident energy. Also known as plunger; waveguide plunger.

(engineering)

(mechanical engineering)

A sliding metal cylinder that reciprocates in a tubular housing, either moving against or moved by fluid pressure.

McGraw-Hill Dictionary of Scientific & Technical Terms, 6E, Copyright © 2003 by The McGraw-Hill Companies, Inc.
piston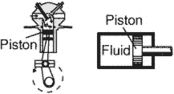 A sliding plug in an actuating cylinder that converts pressure into force and then into work. In reciprocating engines, a piston compresses the fuel-air mixture and transmits force from expanding gases in the cylinder to the crankshaft.
An Illustrated Dictionary of Aviation Copyright © 2005 by The McGraw-Hill Companies, Inc. All rights reserved