Plaster lath
Plaster lath
Thin narrow strips of wood nailed to ceiling joists, studding, or rafters as a groundwork for receiving plastering.
Illustrated Dictionary of Architecture Copyright © 2012, 2002, 1998 by The McGraw-Hill Companies, Inc. All rights reserved
metal lath, metal lathing, steel lathing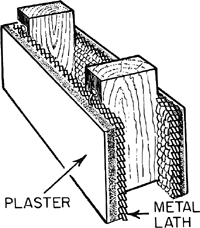 A base for plaster fabricated: (
a
) by slitting metal and then stretching it to form a diamond-shaped mesh or (
b
) by punching and forming sheet metal. Usually classified as
rib lath
,
diamond-mesh lath
,
sheet lath
, or
wire lath.
McGraw-Hill Dictionary of Architecture and Construction. Copyright © 2003 by McGraw-Hill Companies, Inc.