Point-to-Point Protocol
Also found in:
Dictionary
,
Thesaurus
,
Legal
,
Financial
,
Acronyms
,
Wikipedia
.
Point-to-Point Protocol
[

'pȯin· tü 'pȯint ′prōd·ə'kȯl

]

(communication)

A standard governing dial-up connections of computers to the Internet via a telephone modem. Abbreviated PPP.

McGraw-Hill Dictionary of Scientific & Technical Terms, 6E, Copyright © 2003 by The McGraw-Hill Companies, Inc.
Point-to-Point Protocol
(communications, protocol)

(PPP) The

protocol

defined in

RFC 1661

, the

Internet

standard for transmitting

network layer

datagrams (e.g.

IP

packets) over serial point-to-point links.

PPP has a number of advantages over

SLIP

; it is designed to operate both over

asynchronous

connections and bit-oriented

synchronous

systems, it can configure connections to a remote network dynamically, and test that the link is usable. PPP can be configured to encapsulate different network layer protocols (such as

IP

,

IPX

, or

AppleTalk

) by using the appropriate Network Control Protocol (NCP).

RFC 1220 describes how PPP can be used with remote bridging.

Usenet

newsgroup: news:comp.protocols.ppp.

A paper on PPP

.

This article is provided by FOLDOC - Free Online Dictionary of Computing (foldoc.org)
PPP
(Point-to-Point Protocol) The most popular method for transporting IP packets over a serial link between the user and the ISP. Developed in 1994 by the IETF and superseding the SLIP protocol, PPP establishes the session between the user's computer and the ISP using its own Link Control Protocol (LCP). PPP supports PAP and CHAP authentication, as well as EAP, which is a conduit for numerous other authentication methods (see PAP, CHAP and EAP).

Full-Duplex and Multilink
PPP can run on any full-duplex link from POTS to ISDN to T1, etc. On dial-up connections, PPP can hang up a low-quality call and redial. Using Multilink PPP (MLPPP), two modems and phone lines can be bonded together to increase speed.

PPP Encapsulates the Packets
PPP encapsulates high-level protocol packets in HDLC-based frames; for example, IP over PPP (IPCP) for the Internet and IPX over PPP (IPXCP) for NetWare networks, and it can multiplex different protocols over the same circuit. PPP also supports ATM and Ethernet frames for DSL and cable modem hookups (see PPPoA and PPPoE). See PPTP and SLIP.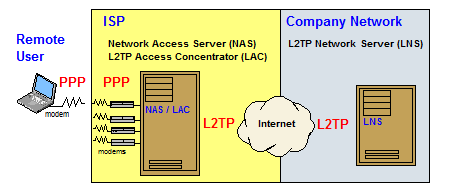 PPP and L2TP Together
PPP and its counterpart, the Layer 2 Tunneling Protocol (L2TP), are used together to extend a PPP session across the Internet for remote users.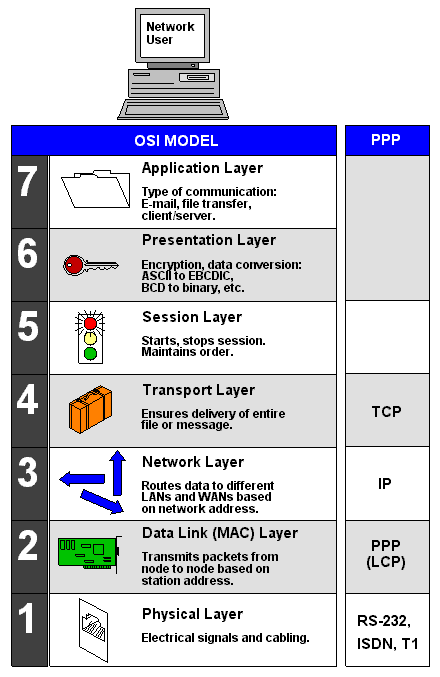 The PPP Stack
PPP resides at the data link layer in the stack. Its typical use is accessing the Internet via TCP/IP over an analog modem (RS-232), ISDN or a T1 line. However, PPP can also simultaneously multiplex other transport protocols such as IPX, Appletalk and DECnet.
---
PPTP
(Point-to-Point Tunneling Protocol) A protocol from Microsoft that is used to create a virtual private network (VPN) over the Internet. Remote users can access their corporate networks via an ISP that supports PPTP.

PPTP encapsulates all network protocols for transport over IP. If IP is the source, IP packets ride as encrypted messages inside PPTP packets running over IP. PPTP is based on the point-to-point protocol (PPP) protocol and the generic routing encapsulation (GRE) protocol. Encryption is performed by Microsoft's Point-to-Point Encryption (MPPE), which is based on RC4. See L2TP and VPN protocols.

Copyright © 1981-2019 by The Computer Language Company Inc. All Rights reserved. THIS DEFINITION IS FOR PERSONAL USE ONLY. All other reproduction is strictly prohibited without permission from the publisher.