Ponti, Gio
Ponti, Gio
(1891–1979)

Italian architect and designer, influenced by the Sezession movement and Otto Wagner. He was the founder-director of Domus magazine (1928). He worked with Nervi in the design of the Pirelli Tower in Milan, Italy (1956), and designed the Museum of Modern Art (illus.) in Denver, CO (1972).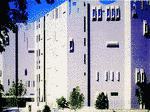 Illustrated Dictionary of Architecture Copyright © 2012, 2002, 1998 by The McGraw-Hill Companies, Inc. All rights reserved
The following article is from The Great Soviet Encyclopedia (1979). It might be outdated or ideologically biased.
Ponti, Gio
(full first name, Giovanni). Born Nov. 18, 1891, in Milan. Italian designer and achitect.
Ponti graduated in 1921 from the Milan Polytechnic, where he taught from 1936 to 1972. He founded the art journal Domus (published 1928–41 and since 1947) and served as its director until 1972. Ponti propounded the existence of a "superart," which unites all forms of human activity, including the plastic arts, in creating an artificial environment. As a whole, his designs are distinguished by their technical and operating efficiency and reticence of external solution (Pavoni coffee maker, 1948; Cassina chairs, 1957).
As an architect, Ponti was influenced by neoclassicism in the mid-1920's, but in the 1940's and 1950's he adopted a number of the tenets of functionalism. His principal architectural work is the Pirelli office building in Milan (1956–60, with A. Rosselli and P. L. Nervi), a 33-story skyscraper in the form of a narrow rectangle with skew angles. Two powerful supporting pylons erected on the outside give the building's composition both a striking completeness in vertical lines and a dynamic effect. Other architectural works include the Italian Institute building in Stockholm (1959).
Ponti is also famous as a painter of large-scale works, a graphic artist, and a ceramist. In addition, he has designed costumes and sets for stage and film.
WORKS
Amate l'architettura: L'architettura é un cristallo. Genoa, 1957.
REFERENCE
Labo, M. Gio Ponti. Milan, 1958.
The Great Soviet Encyclopedia, 3rd Edition (1970-1979). © 2010 The Gale Group, Inc. All rights reserved.