principal axis
(redirected from Principle axis)
Also found in:
Dictionary
,
Thesaurus
,
Medical
.
principal axis
[

′prin·sə·pəl ′ak·səs

]

(crystallography)

The longest axis in a crystal.

(engineering acoustics)

A reference direction for angular coordinates used in describing the directional characteristics of a transducer; it is usually an axis of structural symmetry or the direction of maximum response.

(mathematics)

One of a set of perpendicular axes such that a quadratic function can be written as a sum of squares of coordinates referred to these axes.

For a conic, a straight line that passes through the midpoints of all the chords perpendicular to it.

For a quadric surface, the intersection of two principal planes.

(mechanics)

One of three perpendicular axes in a rigid body such that the products of inertia about any two of them vanish.

(optics)

McGraw-Hill Dictionary of Scientific & Technical Terms, 6E, Copyright © 2003 by The McGraw-Hill Companies, Inc.
principal axis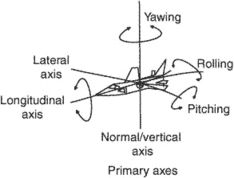 i
. The lateral, vertical, and longitudinal axes.
ii
. The axis of relative wind.
iii
. The principal inertial axis: that line passing through the center of gravity in a plane of symmetry about which a long, slender body tends to rotate when rolling.
iv
. A rectilinear axis in the plane of a cross section of a structural member about which the moment of inertia is the maximum.
An Illustrated Dictionary of Aviation Copyright © 2005 by The McGraw-Hill Companies, Inc. All rights reserved