Pueblo architecture
Pueblo architecture
(1905-1940)

A communal dwelling and defensive structure of the Pueblo Indians of the southwestern United States, built of adobe or stone, typically multistoried and terraced, with entry through the flat roofs by ladder.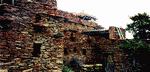 Illustrated Dictionary of Architecture Copyright © 2012, 2002, 1998 by The McGraw-Hill Companies, Inc. All rights reserved
pueblo architecture
Communal housing, as much as five stories high, containing a large number of individual family units, built by unrelated tribes of New Mexico and Arizona known as "Pueblo Indians." Buildings are constructed of adobe or a combination of adobe and stone and have massive exterior walls coated with an adobe plaster; windows of small size; stepped-back roof lines; flat roofs supported by roof beams; interior walls finished with adobe plaster. Entry to the rooms through a hatchway in the roof, reached by a ladder.
McGraw-Hill Dictionary of Architecture and Construction. Copyright © 2003 by McGraw-Hill Companies, Inc.