Pyrethrins
Also found in:
Dictionary
,
Medical
.
The following article is from The Great Soviet Encyclopedia (1979). It might be outdated or ideologically biased.
Pyrethrins
mixtures of substituted (+)-pyrethrolone with esters of (+)-trans-chrysanthemumic and pyrethrinic acids. Pyrethrins have insecticidal properties and are found in various chrysanthemums of the genus Pyrethrum. Pyrethrins are optically active, colorless liquids with high boiling points; they consist of geometric isomers that are easily hydrolyzed by base but are stable in weakly acidic mediums. They are easily decomposed by light, moisture, and air. The median lethal dose for rats ranges from 200 to 2,600 mg/kg, administered orally.
The active constituents of pyrethrins are pyrethrin I (I), pyrethrin II (II), cinerin I (III), cinerin II (IV), jasmoline I (V) and jasmoline II (VI):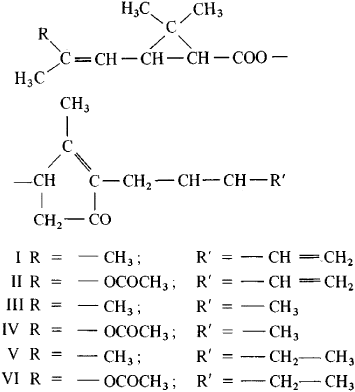 Pyrethrins are usually extracted from the crushed flowers of chrysanthemums of the genus Pyrethrum with a mixture of the polar solvent methanol and the nonpolar solvent kerosine. Sometimes a single solvent is used, for example, methylene chloride, dichloroethane, or some other chlorinated hydrocarbon. Admixtures in pyrethrins are removed either by precipitation, by adsorption onto charcoal, or by freezing with subsequent filtration. The technical-grade, 25-percent extract contains 10 percent pyrethrin I, 9 percent pyrethrin II, 3 percent cinerin I, approximately 3 percent cinerin II, and traces of jasmolines. It is a yellow oil that is insoluble in water but soluble in most organic solvents. The ratio of the components and the toxicity for warmblooded animals may be controlled by selecting the type of source flowers, by controlling the conditions of plant growth, and by resorting to various treatments during the extraction process or during distillation of the solvent.
Pyrethrins are contact insecticides with a rapid paralyzing action, that is, they exert a knockdown effect. They are supplied as aerosols, dusts, or emulsions for use against household insects, including true bugs, lice, and cockroaches. They can also be used to exterminate harmful insects in agriculture and in the treatment of stores and supplies, although their action is of very short duration. Because pyrethrins are unstable, insects rarely develop a tolerance. The insecticidal action of pyrethrins is intensified by adding various synergists, for example, piperonyl butoxide, tropital, and sesamex. For most countries, pyrethrins are expensive, imported insecticides, and thus synthetic pyrethrin analogs, known as pyrethroids, are manufactured instead.
REFERENCES
See references under .

K. D. SHVETSOVA-SHTLOVSKAIA
The Great Soviet Encyclopedia, 3rd Edition (1970-1979). © 2010 The Gale Group, Inc. All rights reserved.