Pyrgeometer
Also found in:
Dictionary
,
Wikipedia
.
pyrgeometer
[

¦pīr·jē′äm·əd·ər

]

(engineering)

An instrument for measuring radiation from the surface of the earth into space.

McGraw-Hill Dictionary of Scientific & Technical Terms, 6E, Copyright © 2003 by The McGraw-Hill Companies, Inc.
The following article is from The Great Soviet Encyclopedia (1979). It might be outdated or ideologically biased.
Pyrgeometer
an instrument for measuring the effective radiation of the earth's surface, that is, the difference between the self-radiation of the earth's surface and the atmospheric back radiation. During measurement of the effective radiation, the detecting surface of the pyrgeometer (see Figure 1) is turned alternately to the sky and the earth. The difference between the quantities obtained corresponds to the effective terrestrial radiation.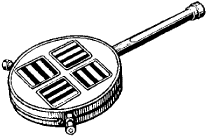 The thermoelectric pyrgeometer of S. I. Savinov, as improved by lu. D. Ianishevskii, is used in the USSR. The detector consists of alternate coarse black strips and shiny nickel-plated strips. Because of the difference in the strips' emissivity and absorptivity, a temperature difference is created. The thermoelectric current that arises is measured with a galvanometer. The instrument is calibrated in absolute values (caJories/cm2-min) by comparison with the readings of an Angstrom compensation pyrheliometer or by reference to black body radiation. V. A. Mikhel'son built an absolute compensation pyrgeometer with strips facing in opposite directions that permits a direct determination of the effective radiation of the earth's surface.
REFERENCE
Averkiev, M. S. Meteorologiia, vol. 1. Moscow, 1951.
Ianishevskii, Iu. D. Aktinometricheskie pribory i metody nabliudenii. Leningrad, 1957.
The Great Soviet Encyclopedia, 3rd Edition (1970-1979). © 2010 The Gale Group, Inc. All rights reserved.